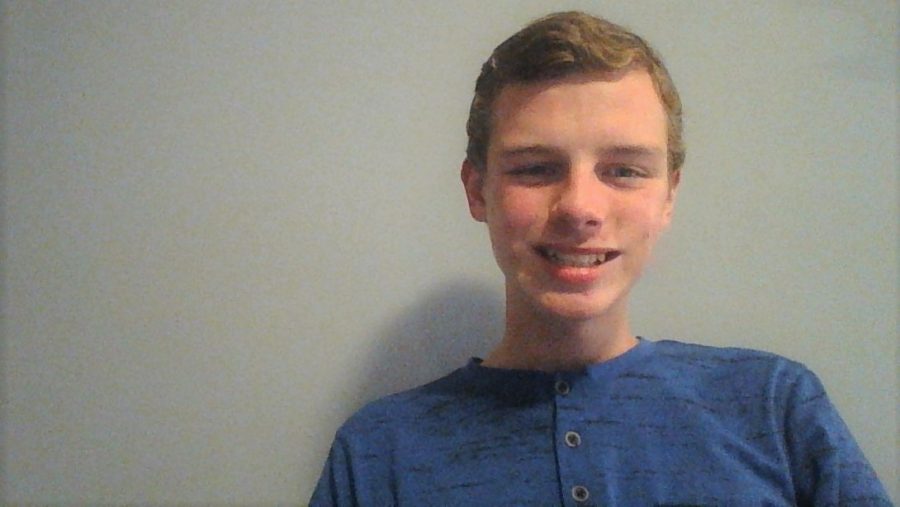 My name is Cameron Valaitis. I was born on March 15, 2002 and am currently a junior at Greater Nanticoke Area. I have two brothers, along with three cats and one dog. My elder brother is 18; the other is 18 months old. Currently, I am involved in National Honor Society and Spanish Honor Society. On the side, I volunteer at the Glen Lyon food drive.
My childhood was very good, involving school, family time, vacations every year, and fun every day. On these vacations, I got to go to Maryland, South Carolina, North Carolina, New York, Florida and Louisiana. Visiting all of these states gave me an idea of what life is like outside the city of Nanticoke.
During my teen years, my life consisted of school, and continuing to go on a yearly vacation. In the summer of 2015, I went on a Carnival Cruise to Mexico, Belize, and Mahogany Bay. This trip gave me a chance to see the world and how other people live on a daily basis. I got to eat some unique foods, go on tours, and see beaches with the clearest water possible. My teen years continued, and my life continued to develop. My younger brother was then born on March 23, 2017. This came as a life changing experience to me, and over time I came to enjoy having a younger brother.
This last summer began with me helping out at the final field day at the old K.M Smith building, and then attending my brothers graduation. I then went on three vacations. The first and second vacations were spent with my family in Tennessee and Virginia, but my last vacation was spent with my brother and my friend. On this trip, we went to New Jersey.
Now in my junior year, I have chosen to join journalism, instead of wood shop, and type articles for
The GNA Insider. 
I joined due to the fact that this class sounded interesting, and that it was something different from everything else I have ever done during my life. My plans for this year include to continue doing my best and to never give up. After I graduate, my plans are to attend college and study medicine to become a pediatrician.
Cameron Valaitis, Student Writer
May 30, 2019

Intrinsic vs extrinsic learning

(Story)

May 28, 2019

Nuclear warfare between U.S. and Iran?

(Story)

May 22, 2019

New class office election rules

(Story)

May 20, 2019

Should high school students consider a trade job?

(Story)

May 16, 2019

Post-graduate education: distant or local?

(Story/Media)

May 08, 2019

National Teacher Appreciation Week

(Story)

May 01, 2019

GNA hosts career fair

(Story)

Apr 23, 2019

Remembering the Holocaust

(Story)

Apr 17, 2019

The benefits of being bilingual

(Story)

Apr 08, 2019

The annual tradition of egg dyeing

(Story)

Apr 03, 2019

Does wealth ensure happiness?

(Story)

Mar 26, 2019

School now vs then: altered for the better?

(Story)

Mar 25, 2019

Safe dating presentation

(Story)

Mar 18, 2019

WIN periods return to GNA

(Story)

Mar 08, 2019

Do social pressures influence career-based decisions?

(Story)

Feb 25, 2019

Think twice about dropping out

(Story)

Feb 18, 2019

Pennsylvania world records

(Story)

Feb 15, 2019

Safe to Say Something

(Story)

Jan 29, 2019

How to react when presented with a rumor

(Story)

Jan 25, 2019

Things students take for granted

(Story)

Jan 17, 2019

How well do you know Pennsylvania?

(Story)

Jan 10, 2019

The importance of physical education

(Story)

Dec 18, 2018

How is New Years celebrated around the world?

(Story)

Dec 17, 2018

Holiday spirit week

(Story)

Dec 14, 2018

GNA French Honor Society thanks troops

(Story)

Dec 11, 2018

GNA to host holiday dinner

(Story)

Dec 10, 2018

Bizzare Christmas traditions

(Story)

Dec 07, 2018

The origins of Elf on the Shelf

(Story)

Dec 02, 2018

What causes holiday sickness?

(Story)

Nov 20, 2018

Fact or myth: turkey makes you sleepy

(Story)

Nov 19, 2018

Hispanic Flamenco Ballet 2018

(Story)

Nov 13, 2018

Short stacks for a tall cause

(Story)

Nov 13, 2018

Do smaller class sizes offer better learning experiences to students?

(Story)

Oct 26, 2018

What is World Kindness Day?

(Story)

Oct 23, 2018
Oct 23, 2018

Video game addiction

(Story)

Oct 15, 2018

The Empty Bowls Fundraiser

(Story)

Sep 30, 2018

What GNA has to offer

(Story)

Sep 18, 2018

Spanish Honor Society organizes annual Pulsera Project

(Story/Media)

Sep 11, 2018