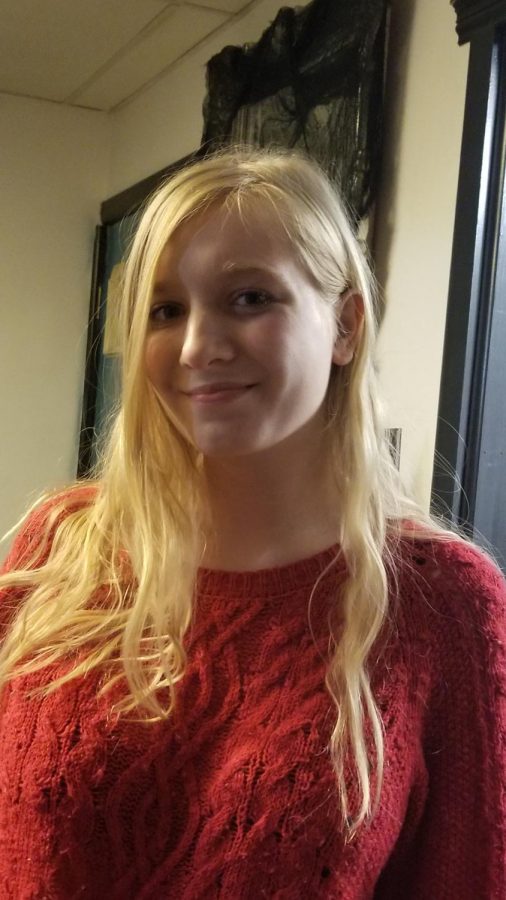 My name is Morgan Burleigh, and this is my senior year. After I graduate I plan to attend LCC, then I hope to get into West Chester University for Early Childhood Education. My dream in life is to be a teacher, with a little bit of writing on the side. I love to write; I especially love writing poems. I'm a bit of an "old soul" who's into all things dark and macabre!  
I've traveled to England and Canada, and I went to Ecuador and the Galapagos this summer. I'm passionate about volunteer work, and I've been in the Interact club since 8th grade. I've volunteered in the Empty Bowls Project, and I was a volunteer teacher's assistant in the kindergarten, which I plan to do this school year.
I'm an Upward Bound student as well, and I've done many exciting things through the program, like indoor skydiving. I love to learn, to travel, and to try new things. As this is my last year in high school, I plan to become more involved. I really want to get in on the action and feel the school spirit! 
Morgan Burleigh, Student Writer
Jun 03, 2020

Dear future seniors

(Story)

May 20, 2020

Grading during the pandemic

(Story)

May 18, 2020

Moving gestures for our seniors

(Story)

Mar 19, 2020
Feb 20, 2020

What the rising drug addiction epidemic means to teens

(Story)

Feb 19, 2020

Paving the way of kindness with. . . applesauce?

(Story)

Feb 10, 2020

10 minutes with a Trojanette: Bobbi Chaban

(Story)

Jan 23, 2020

Halo Multi-Sensors

(Story)

Jan 16, 2020

Women rise together in 2020

(Story)

Jan 07, 2020

10 minutes with a Trojan: Ian Litchotski

(Story)

Dec 12, 2019

The terrifying creatures of Christmas

(Story)

Dec 09, 2019

10 minutes with a Trojanette: Brittney Guyer

(Story)

Dec 09, 2019

10 minutes with a Trojanette : Abby Cullen

(Story)

Nov 27, 2019

The rise of vaping illnesses

(Story)

Nov 26, 2019

The Gratitude Tree

(Story)

Nov 20, 2019

10 minutes with a Trojanette: Madison Cramer

(Story)

Nov 19, 2019

The future of protein

(Story)

Nov 18, 2019

10 minutes with a Trojan: Walter Ryer

(Story)

Nov 07, 2019

Pura Vida bracelet sale

(Story)

Nov 06, 2019

Spreading positivity

(Story)

Oct 25, 2019

Family-friendly things to do in October

(Story)

Oct 25, 2019
Oct 23, 2019

Haunted places in Pennsylvania

(Story)

Oct 10, 2019

Haunted places, scary attractions to visit in October

(Story)

Oct 09, 2019

Horror Hall to remain open

(Story)

Sep 25, 2019

Interact Club officially starts the new year

(Story)

Sep 25, 2019

Getting to know our staff: Jackie Victor (college adviser)

(Story)

Sep 25, 2019

Getting to know our staff: Ms. Richar (student teacher)

(Story)

Sep 23, 2019

Getting to know our staff: Mr. Morrison (student teacher)

(Story)