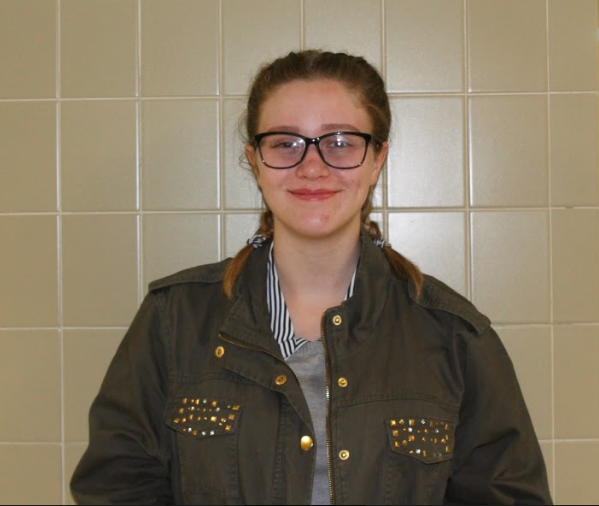 My name is Kaleigh Hamm, and I am a junior at Greater Nanticoke Area High School. I am in my second year of the GNA marching band as the current color guard captain. I have also been involved in our school's Interact Club for four years; this is my first year serving on its board as the assistant treasurer.
I am a member of both the National Honor Society and the French Honor Society as of my sophomore year. This year I am participating in Junior Leadership Wilkes-Barre, as one of 70 students in our area involved in the organization.
Outside of school activities, I enjoy various hobbies. These hobbies include painting, writing, drawing, and caring for my many cats. After high school, I plan to attend college full time in New York with a major in journalism.
Kaleigh Hamm, Student Writer
Jun 12, 2019
Jun 06, 2019

Officers announced for the 2019-2020 school year

(Story)

Jun 05, 2019

AP History students present to the underclassmen

(Story)

May 31, 2019

"Rocketman" review

(Story)

May 06, 2019

Avoid sinister sun damage this upcoming summer

(Story)

May 01, 2019

Brandon's Forever Home

(Story)

Apr 03, 2019

Open Skate offered by Junior Leadership Wilkes-Barre

(Story)

Apr 01, 2019

Spring into action

(Story)

Apr 01, 2019

First annual Purple Paws Walk

(Story)

Apr 01, 2019

The history of April Fools' Day

(Story)

Mar 26, 2019

Self-defense class offered by Junior Leadership Wilkes-Barre

(Story)

Mar 01, 2019

Amplify your look for this prom season

(Story)

Mar 01, 2019

The impact of political cartoons

(Story)

Feb 14, 2019

Top 8 infomercial products you wanted as a kid

(Story)

Feb 04, 2019

What's with the whiteboard?

(Story/Media)

Jan 27, 2019

The predicted fashion trends of 2019

(Story)

Dec 17, 2018

Letters to soldiers

(Story)

Dec 04, 2018

Remembering 41's legacy

(Story)

Dec 03, 2018

Social media addiction

(Story)

Nov 30, 2018

Interact Club travels to the United Nations

(Story)

Nov 01, 2018

The dangers of trick-or-treating

(Story)

Oct 31, 2018

13 Reasons Why and mental health

(Story)

Oct 31, 2018

How necessary is a college education in today's world?

(Story)

Oct 30, 2018

Getting to know our staff: Mrs. Hoover

(Story)