WVIA Artist of the Week: Carlee Williams and Connor Ehrensperger
GNA CAMPUS- Among the student body roaming the halls or sitting idling in the classroom, there are a select few individuals whose abilities extend past the academic setting.
GNA is delighted to be the home to many of these gifted students. Two of our seniors, in particular, were selected to be broadcasted on WVIA's artist of the week segment, which went live on November 15th, 2020.
The purpose of WVIA's segment is to spotlight high school students who have proven to be proficient in either performance or visual arts. Each interview is shortened to a one-minute summary, allowing the nominee to elaborate on their medium of art and the stories behind their expertise.
The GNA Insider had the pleasure of interviewing both Carlee Williams and Connor Erenspherger who were featured as WVIA's artist of the week. 
Carlee's infatuation with art started in her adolescence, going as far as to say, "I have been drawing ever since I could hold a pencil." As other children did, Carlee started drawing in coloring books with crayons. As she matured and transitioned from Crayola to Scratmore, she transformed her purpose for creating art as well, using it as therapy and escape from her hardships. "I can't say I am able to pinpoint where my passion for art came from, but I can say that I feel a sense of tranquility when I'm creating my art."
Carlee is knowledgeable in a range of mediums including acrylic paint, colored pencils, and clay work. She most often uses acrylic telling us, "I've recently been really into painting since you can get a lot of texture and depth. My art tends to reflect my emotions or just my general interests." This artist takes inspiration from many places including other artists, nature, and human expression. She was unable to select a singular piece as her favorite but was more than happy to include her recent sculpture. It is a handmade and painted ceramic sculpture that takes the shape of the Sandworm creature from one of her all-time favorite movies, Beetlejuice. She sold the piece for $152 dollars.
When Carlee heard the news, she was "ecstatic." Adding to the excitement of the day, it occurred on her 17th birthday. She told us, "I was coming home with my dad after running a few errands. Then, my mom told me to stand in the dining room and to read an email on my phone as she started recording me. I was so surprised I couldn't believe it! I didn't even know how to react!"
Carlee puts all her effort into her work and considers herself an artist in training. Through practice and dedication, she has been able to develop her skill over time. "I can say with confidence that my skills have evolved since I started taking art seriously and making it one of my hobbies." While it is merely a hobby to her, she plans to pursue it in her future.
Through her involvement in GNA's Art club, she became closer to the art teacher, Mrs. Rubal. Carlee credits her with being a major influence in her artistry. "[She] has always encouraged me to be the best I can be. In all honesty, she has become part of my family and has always helped me with what was happening in my life that wasn't art-related. She's a down to earth person who tries her hardest to make sure her students are happy and taken care of. I love her very much and always wish her the best."
"Art is a way of expression. As long as you have a passion for what you're creating, anything can become a piece of art. Art can even come subconsciously without being aware you're even creating something with a deeper meaning to you until after the piece is finished," Carlee explained.
GNA's second artist featured on WVIA is Connor Erenspherger. This proud GNA marching, concert, and jazz band performer was nominated for performance art/music for WVIA's artist of the week segment.
Connor discovered his nomination through a school announcement asking him to go to the library. "I initially felt very honored, but also very stressed about the interview and recording," he said.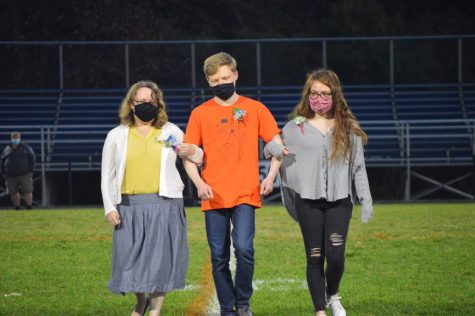 While mainly playing the trombone and enjoying jazz pieces, Connor has had an interest in music and instruments since kindergarten when he started playing the piano. He explained, "I think a baseline level of interest and intrigue started in kindergarten when I started playing the piano but gradually grew over time and developed into a passion once I started playing the trombone." Playing piano was a gateway into the music world for Connor. 
He has learned quite a lot since his piano days in kindergarten. As he matured his interests and developed his skills, he continued to incorporate his music passion with his academics, becoming a member of the GNA Concert band, the GNA Jazz band, and the GNA Marching band. Without the help of his childhood piano teacher, Barbara Hall, music teachers, and his family, he would have never grown to love the art. 
With his involvement in the school band, his memorization was trained and tested. It takes him a while to memorize songs but admits, "I have recently found that music theory helps tremendously. Connor enjoys a challenge and keeps things fresh with his skill. He tells us, I think that consistent practice makes anyone a musician. By that definition, I do consider myself a musician because I have consistently practiced an instrument for multiple years."
Once he graduates this upcoming May, Connor will not put his skill to waste. He plans to pursue music to become a proper musician. Once he enters the college setting, he said, "[I plan on} participating in as many musical groups as I can manage."
Connor explains, "The importance of music is so far-reaching that all that it offers cannot really be determined, but I would definitely highlight the expression it provides and the unique form of communication that it is."
We congratulate both Carlee Williams and Connor Ehrenberg on their outstanding achievement.
You can view the entire interview clip on the WVIA website.