GNA CAMPUS – GNA's arts program is full of talented individuals. Teachers and students alike are coming together in these programs to showcase their talents to the world in wonderful performances. Keeth Beck, a junior at GNA High School, is extremely talented and involves himself in many of these programs to put those talents to good use. 
The GNA Insider got a chance to sit down with Keeth and ask him about the programs he's involved in and get some updates on the recent happenings in the arts program.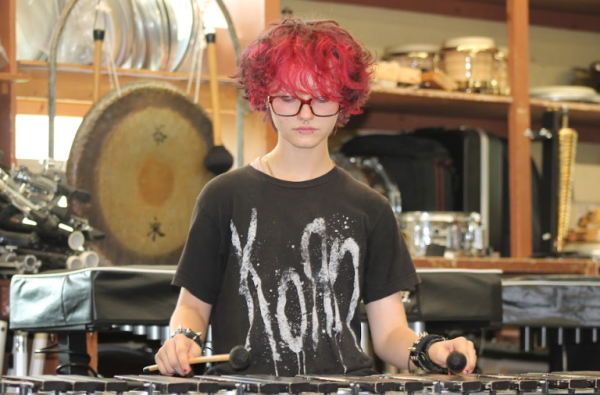 What programs are you involved in at GNA?
I'm a part of the Marching band, Jazz band, Concert band, and theatre programs here at GNA. 
Which is your favorite, and why? 
I'm definitely tied between Marching band and theatre. I feel more at home in the Marching band, since I've been there longer, and it's my favorite music to play. I love going to football games and performing with them there, too. I love theatre because it's just super fun. I'm so happy just being a part of the program because I've been wanting to do it for a while, and it's an entirely new group of kids who are interested in the arts.
How long have you been a part of these programs?
I've been in the Marching band for four years, and Concert and Jazz for three. I've only recently started doing theatre because the program had been gone for so long, but it made a comeback with last year's amazing performance of 'The Wizard of Oz'. Shoutout to Mr. Baker!
Do you want to pursue the arts as a career? Why, or why not?
I'm not entirely sure. As much as I'd love to pursue the arts, I'm hoping to pursue a career in Culinary. I love cooking, and music is more of a hobby to me. I would love to minor in something music-related, though.
Is there a school you want to study at?
Anywhere that I can study both Culinary and Music. I'd love to go out of state, though, to a big city, like New York. I would like to go abroad at some point, too.
What advice would you give to anyone else who wants to pursue music?
Definitely do it! The music program at our school is so important to so many people, and we definitely need more people to carry on its legacy after we graduate. For more specific advice, I'd say to definitely practice reading music. It'll help you a lot in the long run.
–
The arts program is extremely important to so many people at GNA. From teachers to students, the talent that radiates off of these individuals is remarkable. Teachers who specialize in the arts had to suffer through a lot of budget cuts, as well as scares involving their programs being removed or taken away. All through the midst of this, the students and teachers still managed to thrive and push themselves and each other to the best of their abilities.
This goes to show that when you devote your time and talent to something you are passionate about, you can make your way through any hardships. Keeth wants you to know that you shouldn't let anybody tell you what you can and can't achieve and hopes this article inspires others to push their limits within the arts and anything else they are proud of.