From the class of 2023: a letter to those who inspire
GNA CAMPUS — A sigh of relief! Grass covered in dew drops, spring flowers blooming from afternoon showers, and warm weather wrapping around the city of Nanticoke like a gentle embrace. As the seasons transition, the lives of those around are changing too. 
After a total of four years at Greater Nanticoke Area High School, the graduating class of 2023 is finally ready to say their goodbyes and continue forth to brighter futures. Although this is the ending of what feels like the longest chapter, it is actually a symbol of new beginnings with a breath of fresh air. 
One cannot move forward without looking at the past. Reflection is an important process of transition and growth. Therefore, a few dedicated students thought it was important to recognize some of those who have enabled them to reach their goals and follow their dreams. Who are those behind the curtain, working to make the show run smoothly? To some it's a cluster of the stage crew, to students it's a family of educators. 
Throughout their educational journey, the class of 2023 can all say they had many good teachers inspire them, but the ones they truly remember and appreciate are the great ones who taught them to inspire themselves. "A good education can change anyone; however, a good teacher can change everything," said T.J. Herrman. 
As freshmen, the class of 2023 was catapulted into a harsh reality of widespread illness, learning to navigate the unknown world of a pandemic. Educators had to adapt and discover innovative ways of teaching while preparing students with the skills to become productive members of society and challenging them with academic rigor. Teachers worked passionately alongside parents with the intent to create a sense of normalcy while learning in a hybrid setting: either at home or in the classroom. Sophomore year seemed like a blur of Chromebooks and Google Forms, while junior year brought back a shining light to students. Now, in their last year, seniors have finally regained the normalcy of high school that everyone worked so hard to achieve. 
The GNA Insider was fortunate enough to sit down with a handful of students who wish to express their gratitude for those who offered guidance and support throughout the last four years of hybrid high school.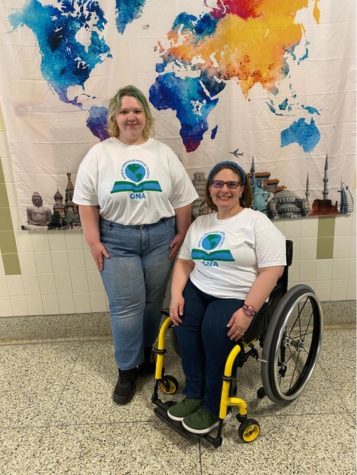 High-achieving student, Jordan Lamb is now committed to Rosemont College with a Secondary Education and Mathematics major. Lamb has involved herself in numerous activities throughout high school including chorus for eight years, the Upward Bound Program, the National Honor Society, as well as the World Language Honor Society. Lamb has former GNA Spanish teacher, Linda Kelchner, to thank for her endless support and encouragement in anything Lamb did. 
To Mrs. Kelchner, from Jordan Lamb: Thank you!
"Dear Mrs. Kelchner, 
Thank you for everything that you've done. Throughout four years of Spanish classes with you, you have not only inspired a love of language learning, but also greatly influenced who I am and how I view the world around me. You inspired me to strive to become a teacher someday, so I can influence my future students' lives in the same way that you've influenced mine. And for that, I'm forever grateful. 
Thank you, as well, for all that you've helped me through. There have been many difficult moments throughout these past four years, and I knew you were always there when times were tough. It's obvious that you genuinely care for your students, both academically and personally, and I'm so appreciative to have you in my life. 
You've influenced my life greatly, both academically and otherwise, and I couldn't thank you enough for everything you've done. More than any other teacher, you've influenced my life on several levels, and I will never forget the impact you made on my life. 
So thank you, Mrs. Kelchner, for everything. 
Sincerely,
Jordan Lamb"
Nick Neipert, a hard-working and self-sufficient musician has committed to Bloomsburg University with a major in Marketing. With a growing fanbase, Neipert prides himself on his ability to write poetry and music but is aware that he didn't get there all on his own. He finds himself looking back to Ms. Hyder, his English and Poetry teacher for the last 2 years. Neipert admires her and has her to thank for his knowledge in conveying his feelings through the art of words.
To Ms. Hyder, from Nick Neipert: Thank you!
"Dear Ms. Amber Hyder,
This is the second consecutive year that I have had you as a teacher. While this is all fine and cool with me, it is worth noting: this is your second consecutive year having ME as a student. I can't imagine how much mental turmoil and exhaustion I have put you through these past two years. The reason I can't imagine it is because if it's even there, you have never shown it. Since day 1, September 7th, 2021, I have felt welcomed and appreciated in Room 111. I can't say I have ever felt so at home in a classroom in my 12 academic years, and for that, I am so grateful.
Every year, around April or May, I do a lot of reflecting on the past school year. Usually, there's an imaginary checkbox that I go through to determine the quality of a teacher. I've found that it's pointless with you because you aren't applicable to the boxes. I think what makes you so special as an educator is how real and relatable you are. Not once have I ever felt beneath you, even though I technically AM. Feeling appreciated is important to me, and I always feel like my presence is valued. I also love how you incorporate "the real world" into your lessons. When I leave your class, I genuinely feel like I have learned something. I'm not the greatest student so that to me is incredibly special.
This is actually really hard for me to write, as we only have a couple of weeks of school left, and as you know, I'm very sentimental and emotional. My life has changed drastically several times over the last two years. This year, specifically, I have faced many new challenges. Through it all, you have shown nothing but support and faith in me. It might sound silly, but without your support, I don't see myself doing all of the things I do. As an 18-year-old, I hear a lot of "you're just a kid" and "when you're older". It's really discouraging, especially with my goals being set as high as they are. But with you, it's been nothing but encouragement. I appreciate that you speak to me like an adult because that's what I am. You understand that I want to achieve my goals sooner than later and trust my ability to do so. Thank you for that.
June 9th, 2023. My last day of high school is June 9th, 2023. I can't say that I'm gonna miss a lot of high school, and quite frankly, I shouldn't miss it. What I can say confidently though — I am going to miss my 4th-period class. More importantly, I'm going to miss the woman at the helm. Thank you for everything always,
Nicholas Tyler Neipert"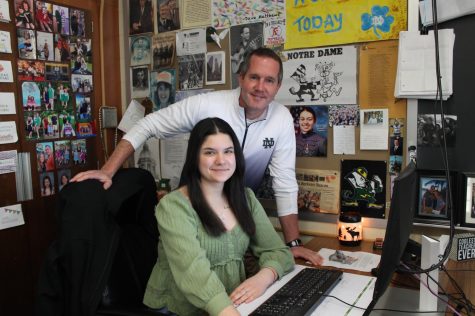 Maura Jenceleski, a well-accomplished student, is committed to Misericordia University and will be majoring in Mass Communications and Design. With academic excellence, Jenceleski was able to achieve the dream of becoming a scholar. She participates in a multitude of school activities including volleyball and the National Honor Society. She is an advisor to Junior Leadership Wilkes-Barre and is the Student Council president. Jenceleski is a writer as well as an editor for The GNA Insider and has chosen to express her gratitude to Mr. Carey, the teacher who inspired her creativity and motivated her to be where she is now. 
To Mr. Carey, from Maura Jenceleski: Thank you!
"Dear Mr. Carey,
Where do I even start when it comes to you? Maybe I'll start with a beautiful quote you've recently shared with me: "Those who bring sunshine into the lives of others cannot keep it from themselves." And boy does that apply to you.
Mr. Carey, from the first day I met you to these last few weeks of high school you have never failed to bring rays of absolute warmth and sun into my life. No matter the hardships I continuously seem to bring to you, you always seem to have years of built-up wisdom ready to provide me with a solution. I don't think I can thank you enough. 
If it weren't for you I would be lost this year scrambling to find a future pathway for myself. Seeing the art that writing can become has instilled a sense of pride for the work not only my peers publish, but fills me with confidence and pride in my own work. I have finally found the reason why I am here: to show people the truth and the beauty of the world through words of silver and gold. Your passion for education and your desire to touch the lives of your students has created a bond between you and me that I don't believe I could find anywhere else.
So thank you, Mr. Carey. Thank you for dedicating your time to believing in me no matter the extreme ideas I bring forth to you. Thank you for not only educational advice but for real-world, life advice. Thank you for the opportunities you blessed me with that led to me getting my name out there. Thank you for allowing me to say goodbye to The GNA Insider in the best way I know how: through this article. And thank you for being my teacher, secretary, therapist, and most of all my mentor. I won't forget you. In fact, look for my name in the Associated Press someday. Love you!
P.S. I cried while writing this…
All the best,
Maura Jenceleski"
The GNA Insider thanks Jordan, Nick, and Maura for being so willing to put their feelings out in the open.
Here they stand in the dew-covered grass. The air is warm and swirls with the smells of summer. Congratulations to the class of 2023 for remaining devoted and relying on the idea of possibilities to get them through the years. And, again, thank you to those who stuck with their students – to those who created a cherishable environment that they will never forget even as they transition into flourishing futures.