2017-2018 Trojanette basketball preview
They're back and better than ever!
The new season has started, and the girl's basketball team is ready to get back onto the court. Led by Lisa Radziak, Katie Butczyncski, Alyssa Lewis, and Madelyn Grilz, the team is ready to dominate once again. 
Expectations going into the season are high due to their outstanding work last year. The team has previously won two rounds of state playoffs, taken home a win at the Wyoming Valley Conference, and won the district championship.  
The loss of last year's girls, Riley Klepadlo, Kayla Aufiero, and Alexis Pyzia, doesn't go unnoticed. It's up to the new and returning members to fill the void left by players lost to graduation.
When asked how he would describe this year's team, Head Coach Alan Yendrzeiwski replied, "Our team is deeper and has more height than last year's team. We have very good team speed and like to play an up-tempo style on defense. Our challenge will be how we replace our lost energy from last season. If everyone chips in and improves just a little bit on the offensive end, we could be really good. That being said, most importantly, we have a great group of girls that are a lot of fun to coach."
This season, the girls have trained and practiced relentlessly to become the best they can be. They are determined to make it further than ever before by "playing hard, playing smart, playing together, and having fun throughout the season."
Ready for action, the 2017-2018 Trojanettes are eager to prove themselves on the court. 
The GNA Insider had the chance to interview four of the team's key players: Jenna Baron, Jilann Baron, Bella Czeck, and Lisa Radziak.
Q: In addition to winning a championship, what are your other goals for yourself or for the team?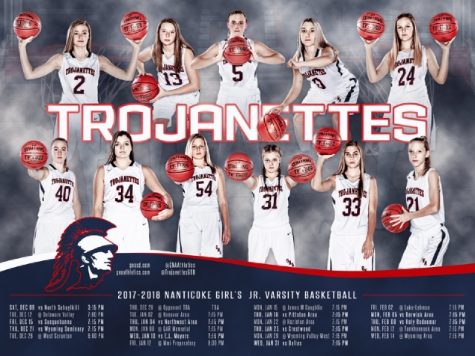 A: "To make each other better. We also want to win a Conference title (again) as well as run after another district title." – Jilann Baron
"In addition to winning a championship, our team this year is striving to continue to improve and make it farther in the state championship." – Bella Czeck
"I would like to go further than ever this year. I would also like my skills to improve." – Jenna Baron
"Our goals are to come closer as a team and work together through it all. As long as we work as hard as we can, I'm sure we'll be happy with the result." – Lisa Radziak
Q: What are you looking forward to this season?
A: "I look forward to just playing. Being out on the court with my family." – Jilann Baron
"This season, I look forward to playing and hopefully getting far into the post season!" – Bella Czeck
"I'm looking forward to just being able to play on the team!" – Jenna Baron
"I'm just very excited to play this year and win as many games as we can. We worked so hard in the pre-season, and I think we just can't wait to show what we can do." – Lisa Radziak
Q: Why is representing your school out on the court so important?
A: "I consider it a honor to represent not only myself, but my classmates, my school, and my family. It brings me such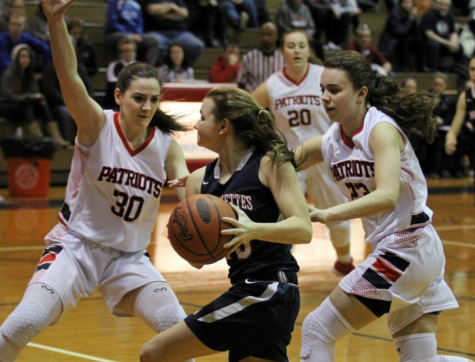 pride that I can do this." – Jilann Baron
"Representing Nanticoke out on the court is so important because many times, a sports team is a representation of the school and its students. It's important to make sure that we show the positive qualities that surround our school and its students." – Bella Czeck
"I think it's important to show off the talent and skill that students in our district have." – Jenna Baron
"Representing our school is so important because I feel we show athletic excellence and good sportsmanship. We try to be players that younger kids can look up to." – Lisa Radziak
Q: What is your favorite part of being on the team?
A: "I love being part of a team because we are more like a family. Also, Coach Yenji's wife's taco dip!"– Jilann Baron
"The girls. Over the years, we have built a strong bond, and we have a lot of fun. Also, because of the program's notable history, it is an honor just to be able to say that I wear a jersey for the Trojanettes." – Bella Czeck
"I like just being able to spend time with the team! We're all family." – Jenna Baron
"My favorite part of being on the team is definitely the team bonding. It may be a little biased, but I probably enjoy the team sleepovers at my house the most. I love how our team isn't just a team; we are a family." – Lisa Radziak
2017-2018 Girl's Basketball roster and schedule.