Junior high on the rise
The Trojanettes 8th grade girls basketball team establishes dominance
GNA CAMPUS – As the junior high lady Trojanettes made their entrance into the '21-'22 season, much was expected of them as shown from their efforts in previous years and through the duration of tryouts. They put in the necessary work to improve their play and came together as one cohesive unit thanks to the coaching staff as well as the individual sacrifice of the players.
As a whole, through thick and thin, and through the ups and downs of the season, these girls managed to stand tall and defy expectations including the junior high team going undefeated in their league division, and the 7th-grade team playing in their league championship game.
The Trojanettes have caught the eye of fans and supporters everywhere. As a result of their continued successes, all eyes will be on this team as everyone noticed the potential in these young girls for future success.
Behind the Scenes: Meet the team (Junior High and 7th-grade girls basketball team)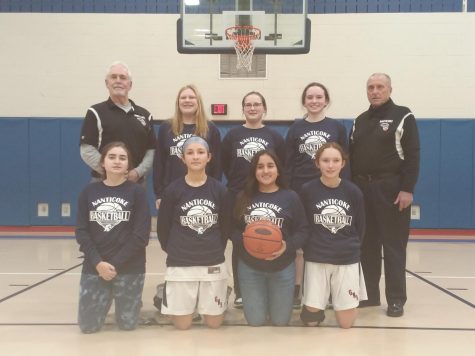 Questions derived for the COACHES:
What were your expectations coming into the season?
Coach Patch (7th): "We met our seventh graders for the first time as we hosted our yearly open gym during mid-November, so we were not sure what to expect. However, we immediately identified plenty of potentials and set rather high goals. With the Jr High team, I truly believed we were the team to beat in our division. If the team chemistry caught up with the speed and skills they displayed as seventh graders in the previous year, we would be tough to beat."
Coach Goodman (Jr. High): "We knew we had an above-average team based on the experience they had as seventh graders. Coaches always want a perfect season."
Were the expectations exceeded?
Coach Patch (7th): "Yes, everyone improved steadily throughout the season, and we ended up playing for the girl's 7th-grade league championship, and the junior high team was undefeated in their division."
Coach Goodman (Jr. High): "Yes, I am a perfectionist and a tough evaluator but the Jr High team was undefeated in league play. These young ladies will continue to improve with maturity and more experience. Our losses came to higher division schools and some girls as old as Freshmen teams. Our girls were able to keep up with them as a result."
What was your overall record?
7th Grade team (Coach Patch): 7-3 in league; 8-4 overall.
Jr. High (Coach Goodman): 7-0 in league play; 11-4 overall.
What aspect of the team are you most proud of and why?
Coach Patch (7th): "Neither team ever gave up."
Coach Goodman (Jr. High): "We're always proud of the girls. They have improved from mid-November until now."
What was the most difficult obstacle you had to overcome as a team to attain your success?
Coach Patch (7th): "Covid 19 caused havoc on the schedule. We faced frequent cancellations and postponements. That is tough mentally and presents challenges keeping attitudes game-ready at practice. Covid protocols, masking, etc. were always enforced and we stayed healthy. Also, there were three 7th graders playing on the jr high team to provide ample substitutes and practice players. With the 7th-grade league playing on weekends, coaches often worked seven-day weeks while assuring everyone had their weekly day off."
Coach Goodman (Jr. High): "COVID-19 with the masks, four or five games had been canceled during the year, games and times changed almost every week. The girls were ready to play the next day just to find out it was canceled or postponed. It's tough on their emotions."
Featured Players:
–Haley Verazin: 7th grader who played for both the 7th grade and the Jr High team.
–Kacey Spencer: 7th grader
–Jordyn Johnson: 8th grader
–Kate Reed: 8th grader
Questions derived for the PLAYERS:
What position did you play?
Haley Verazin (7th & Jr. High): "High post and low post."
Kacey Spencer (7th) & Jordyn Johnson (Jr. High): "Post and wing."
Kate Reed (Jr. High): "Shooting guard."
Reflecting on the season, what was your most memorable moment?
Haley Verazin (7th & Jr. High): "Playing in the 7th-grade league championship game."
Kacey Spencer (7th): "Singing the Alma Mater with the team on the bus ride home from games."
Jordyn Johnson (Jr. High): "Our last practice and the Lake Lehman game."
Kate Reed (Jr. High): "Our big win against Wyoming Valley West."
What did you enjoy most about the season?
Haley Verazin (7th & Jr. High): "Learning more about the game of basketball and spending more time with my friends."
Kacey Spencer (7th): "Playing and building friendships with the team. "Since this is my last year of Biddy, I wanted to keep playing basketball with my friends, so that had a big influence on going out for the school team."
Kate Reed (Jr. High): "The bus rides home after games."
Who/What influenced your success as a student-athlete the most?
Kacey Spencer (7th): "My parents because they believed in me more than I believed in myself."
Jordyn Johnson (Jr. High): "My older brother; watching him play makes me want to play."
What has this opportunity/experience taught you as a player?
Haley Verazin (7th & Jr. High): "Always play hard until the end of the game."
Kacey Spencer (7th): "I learned how to improve my shot and I got better at layups and defense. I also learned that our team isn't just a team, our team is family."
Jordyn Johnson (Jr. High): " I have learned from playing basketball that it's not only about yourself but it's working with a team that feels like a family even when you don't win or anything they will always have your back and be there whenever you need them most."