The man behind the mask: meet Champ
GNA sophomore Mick Toporcer enjoys playing Champ, the official mascot of the Scranton/Wilkes-Barre RailRiders.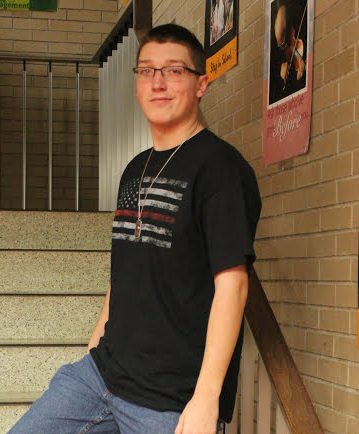 Hang on for a minute...we're trying to find some more stories you might like.
Students at Greater Nanticoke Area High School are involved in many activities both in school and out of school. Students try to gain experience to help them become college and career ready. Once in a great while there is a student who holds an after school job that is quite unique. Mick Toporcer, a sophomore at GNA, is one such student.
Mick's job is to bring joy to all of the kids at PNC Field for each RailRiders home game. His job is to entertain the thousands in attendance. Mick is Champ.
Champ is the official mascot of the Scranton/Wilkes-Barre RailRiders. The RailRiders are a professional minor league baseball team and the official Triple-A affiliate of the New York Yankees.
The sophomore at GNA loves the opportunity to bring a smile to the faces of those who interact with Champ. The GNA Insider sat down with Mick Toporcer, a.k.a. Champ, to ask him about this experience:
Who is Champ?
According to "Champ's World," Champ is, "the Scranton/Wilkes-Barre Yankees Mascot. He joined the team on July 6th and has started every home game since. From that point, Champ has been the hardest working Yankee in the farm system. He continuously works to make it to the big club, and wears #1 in honor of the Governors' Cup Championship. Champ always gets beat on the dance floor by umpires and is always completely defeated in tug of war, but manages to continue to practice his skills. He is the most accurate T-Shirt Launcher in the country, and sticks to the motto of, "Practice Makes Perfect." Champ will be at PNC Field until the NY Yankees call him up, but until then, come and enjoy watching him evolve into the BIGGEST name in Yankees history."
How did you get the opportunity to become Champ?
My history teacher was telling other students in the classroom about a job fair at the PNC field in Scranton. I asked for the dates and times of the job fair and said thank you. I then talked to my parents about it and I received the "okay" to do this. I gained confidence as the job fair approached but was nervous. I didn't get a call immediately stating whether or not I got the job, but I received a letter. Before opening the letter, my mom said, "I'm sorry that is probably the letter stating you didn't get it." When I opened the letter, it told me congratulations and that I got the job!
What do you like most about being the mascot for the Railriders?
What I like most is that I can act myself around others and I don't have to worry about people judging me. I always liked that warm feeling you get when you help someone and they appreciate it. In other words, it is like my favorite quote: "It's not who I am underneath, it's what I do that defines me."
I had a great teacher, Michael, who played Champ for 5 years and was also the backup for Tux with the Wilkes-Barre/Scranton Penguins. He taught me the ins and outs of the job.
April 7 was my first day as Champ and I fell in love with the job immediately. I sat next to a little kid and he was smiling from ear to ear because all he wanted was to watch the game with Champ. My day got better and better.     
Describe a typical game as Champ.
As Champ is the number one fan of the RailRiders, I am constantly working hard to create a fun-filled atmosphere for everyone in attendance. During the game I scan the crowd to see who's watching and waiting for me to come over. I try to stay away from the people who want to watch the game so I do not interfere with them.
What is the most difficult aspect of being a mascot?
Vision!  Since I'm a little tall, it is difficult to see out of. Also, walking is much harder than you would think. I constantly worry about tripping. Falling down the stairs is an easy way to get a laugh out of people, but if you see me fall, it won't be on purpose. HA!
What is the role of a mascot during a game?
The role of every mascot is to pump up the crowd during a game and to give every child in attendance a memory they won't soon forget. I also need to boost the confidence of the players. My main goal is to keep the fans coming back game after game!
Besides attending baseball games, what are other jobs you do as a mascot?
As the mascot for the RailRiders, I will be making appearances at schools and special events throughout the area.   
Does being Champ affect your life in anyway?
It does affect me emotionally because I'm happy and excited and can't wait to go back to the field each game. I enjoy making people smile, especially kids, and being Champ allows me this opportunity.  
The next time you find yourself at PNC field for a RailRiders home game, be sure to get a picture with Champ, and tell him that you know Mick!