A nationwide walkout
Hang on for a minute...we're trying to find some more stories you might like.
From 2013 to 2018, there has been 290 shootings in and on school property in the United States.
That large number continues to grow exponentially every year.
We, as a country, have come to feel perturbed. As many can agree, this violence has gone on for too long and has taken too many innocent lives. As summed up by fellow journalist Harley LaRue, our nation "…has come to the point where students and teachers do not feel safe in school. Parents and students alike are calling for some sort of reform to prevent these tragic incidents…"
If change presents itself in the form of stricter gun laws or as deeper background and mental health checks, it is change that needs to occur.
This map depicts the locations of occurrences around the country where a firearm has been fired inside, into, or on school grounds and that was officially documented by law enforcement and press. However, incidents where firearms have been brought into schools but not fired are not included in this depiction.  Examples include: West Orange High School, Winter Garden, FL; five unidentified people were arrested in the shooting death of a 15-year-old boy on campus after a football game. There was no indication whether the boy knew the people who shot him. Booksin Elementary School, San Jose, CA; Nicholas O'Connor, 21, opened fire on Booksin Elementary School at 4 am with a shotgun, damaging a wall and a security camera near the school's library. He was later arrested and booked for possessing a firearm in a school zone, shooting a firearm in a school zone, discharging a firearm at an uninhabited building, and vandalism.
The possession of firearms on school property is a problem of increasing intensity. It is evident that not every threat or incident has mass casualties, however, they still prove that gun access and appropriation is much too common. For more information on the rising gun violence in America click here 
For many, the recent shooting in Parkland, Florida was the last straw for many Americans. The injured and surviving students are calling for their peers across the nation to stand together and demand some sort of action. The Parkland students, along with many other march organizers, are planing a nationwide march in protest of gun violence. Students and teachers are planing to walk out of their schools on March 14, 2018 at 10:00 am in every time zone. The march will be held for seventeen minutes, one minute for each of the lives lost in Florida. 
The students are making it known that they are protesting against all gun violence. Alex Wind, a Parkland student stated, "We're marching because it's not just schools. It's movie theaters, it's concerts, it's nightclubs. This kind of stuff can't just happen. You know, we are marching for our lives, we're marching for the 17 lives we lost. And we're marching for our children's lives and our children's children and their children." They are stressing that this is the beginning of a peaceful movement looking towards safety in the future.
Again, on March 24, 2018, the Parkland students with support of national organizations, like Everytown, Giffords, Move On, and Women's March LA , are preparing for a march on Washington D.C. Like the walkout, the "March for our lives" will commence at 10:00 am. The mission of the march "…is to demand that a comprehensive and effective bill be immediately brought before Congress to address these gun issues," according to the organizers. They strongly believe that this will "…effectively address the gun violence issues that are rampant in our country…"
On April, 20, 2018, yet another walkout is planned. This walkout is calling for high school students all around the country to leave school on the 19th anniversary of the Columbine shooting. The march is scheduled to begin at 10:00 am and continue until the end of the school day. However, students are being encouraged to remain on campus and in a common space for that time.
It is widely understood that this growing movement is serious in every sense of the word. The March For Our Lives movement is bringing the youth and adults of our country together to achieve one, common, and needed goal that aims for safety and peace of mind.
About the Writer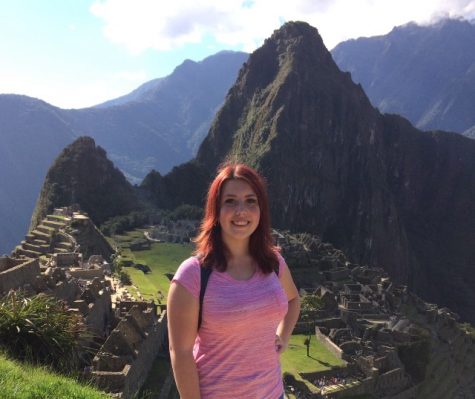 Madelyn Bugdonovitch, Student Writer
My name is Madelyn Rose Bugdonovitch, and I am a senior. I am currently attending college part-time along with high school through our school's Dual Enrollment...