Weighing your decisions
Hang on for a minute...we're trying to find some more stories you might like.

The time is almost here. The time for most senior high school students to make one of the first biggest decisions of their lives. For some, it may be clear; however, for others it is not always as easy.
The fact that it's time to move on to college is scary, but it is not something to fear. Instead, if you follow my advice, it can be an enjoyable process.
Finding the right college to advance your education can be an engaging experience, it just takes initiative to begin the search.
While deciding, there are many different factors to take into consideration:
-academic programs
-student and school demographics
-campus activities
-admission requirements
-tuition
-campus location
-housing options
-professional opportunities
Ask yourself the following questions:
Who are you?
College is not the same experience everywhere you go. One thing that may be seen as exciting at one school, may not be the same consensus at another school. It takes a certain type of student to like a certain type of environment. Also, some schools offer programs that others do not, so research is a must. This is where you have to ask yourself, "who are you?" Are you a people person? Do you like big classes or smaller ones? Do you want to go to a liberal arts college, public college, state college, or private college? Do you want more clubs or extracurricular activities? Does your intended college have your desired programs? Can you study abroad? Is the food good? Etc. These are all necessary questions that you need to ask yourself when beginning the college search process. You want to be able to enjoy your time at college, and that is only possible if you find the right place that best fits your personality. 
Do you meet the requirements?
Knowing whether you meet certain prerequisites for a college can determine your chance of acceptance. It is necessary to make sure your academic background fits the required minimum of wherever you may apply. This is when you have to take some important factors into consideration. Does your intended college take SAT or ACT scores and what is their average range of accepted scores? Or, is the college you want to go to test optional? If so, what other things do they want from you? This may include essays, short answer questions, auditions, transcripts, extra applications, or other financial data provided through the CS profile or FAFSA.
What is the cost?
"The only thing more expensive than the cost of going to college, is the cost of not going to college." College is an investment; therefore, you should try to find the best match while finding the best cost of attendance. This may be the case; however, you can also use alternative ways to bring down the, "sticker price," of whatever college you may be interested in. Academic achievements, online scholarships, merit scholarships, extracurricular activities, and financial aid, can help lower the overall cost of college.
Where is it located?
Where is your intended college choice located? Is it far from home, or close? Will you be able to withstand the travel that is involved with moving to a new location? Can you afford moving to a new location? These questions are common because out-of-state attendance for college is rather expensive, unless you find a private institution that you definitely want to go to. If you are sure that you want to be farther from home, don't forget to take into consideration the colleges that are still in state, but also far away from where you live. Additionally, you should look into every housing option available for you as a student.
What does the future hold?
The ultimate end goal of receiving an advanced education is to hopefully one day secure a job or profession that you are passionate about. So you should be asking yourself , "will I have the opportunities that will allow myself to get a job while in college?" These opportunities include: mock interviews, resume building, audition practices, internships, networking events, career advice, etc. Finding a job is important as it will allow you to begin the next chapter of your life and be a part of the next generation of workers that can help shape the future of the world. So, make sure that the college you want to attend can provide all of these.
Choosing a college is a big deal. It is the stepping stone to great memories, great opportunities, and great life-long friendships. Going to college will allow yourself to become your own person and give you the chance to be who you have always wanted to be.
My final piece of advice is to visit, visit, visit! Don't stop until you have found your favorite college. Just remember to enjoy the process and let your interests find the best match for you; from then on, things will only get better!
Here is a gallery of GNA students who have visited a variety of colleges! (Including my photos)
About the Writer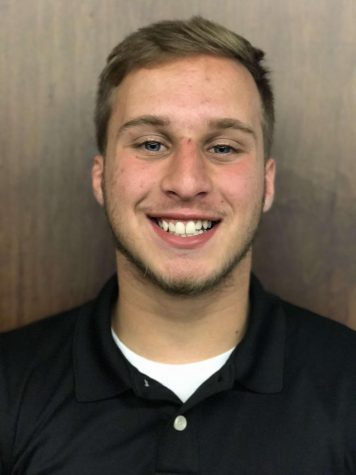 Dawson Hughes, Student Writer
My name is Dawson Hughes and I am a senior at Nanticoke Area High School. My favorite things to do in my spare time involve being active, eating good food, playing video games, listening to music, reading, writing, doing photography, learning new things, and spending time with my family and friends. I have an older...