Spotlight: Male athlete of the month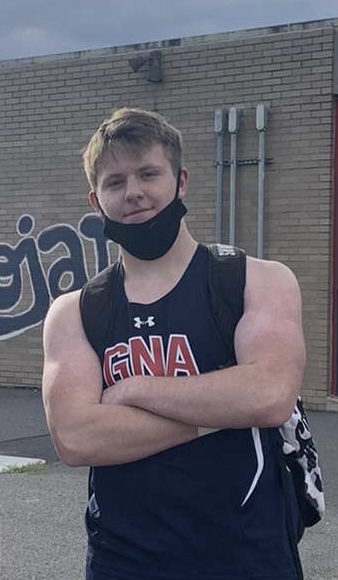 What is your favorite part of playing sports at GNA? 
My favorite part about playing sports at GNA is spending time with my teammates and coaches, and proving that GNA could be a great school for sports.
Who has been the most influential to your success and why? 
My dad has been the most influential to my success. He's taught me how to become a great athlete and a great person, and to always never give up on your goals outside and inside of sports. He's also taught me that nothing is easy in life, and you have to work hard.
Why do you think athletics is an important part of high school?
I think athletics is important in high school because you learn and grow from your mistakes. You learn not to give up and become the best version of yourself.
At what age did you start playing sports?
I started playing sports at age 14, 8th grade.
What sports do you play?
The sports that I am in are wrestling, track and field, and football.
What is your favorite sport?
My favorite sport is football; it helps me become a better athlete and a better person overall.
Do you plan on playing sports in college?
Yes, I plan on wrestling in college.
Where do you see yourself in 5 years?
I see myself in college or starting my life. I also see myself traveling and exploring the world.