Eddie Van Halen Dies at age 65
On October 6th, 2020, the world lost a king – an absolute god in the music world – someone who revolutionized the guitar and how it's played. Eddie Van Halen. 
Eddie Van Halen was born on January 26th, 1955 in the Netherlands. He was a guitarist, writer, producer, and most definitely an inventor. He was the main songwriter and lead guitarist for "Van Halen," the legendary band formed in 1972. He created the band with his brother, Alex Van Halen, who played the drums. Bassist Mark Stone and vocalist David Lee Roth joined them. Originally, Eddie played the drums and Alex played the guitar, but they ended up switching instruments after realizing their talents were not being fully utilized. 
Through his legendary career, Eddie found time to create his own company "EVH," which made the famous Eddie Van Halen Signature Series 5150II amplifier that allowed guitarists to get that Van Halen sound. Eddie's signature guitar he made is something that's called a Frankenstrat, which is pretty much exactly what it sounds like. It is a Stratocaster that had major upgrades to it, using different parts from many different guitars. 
The first song that Van Halen ever put out was a cover song, "You Really Got Me," and on the B side was an original song called "Atomic Punk." Later that year in 1978, they put out their first studio album "Van Halen," which flipped the world on its head. With songs like "Jamie's Cryin'," " Ain't Talkin' 'Bout Love," and what is considered to be one of the greatest guitar solos of all time "Eruption," the album peaked at #19 on the billboard top 200 and sold over 10 million copies in the United States, receiving Diamond certification.
With 12 studio albums and 3 live albums, the band had over 32 hit songs and has sold well over 56 million albums. 
Rest In Peace Eddie, you will be missed by many, and your music will forever live on. 
About the Writer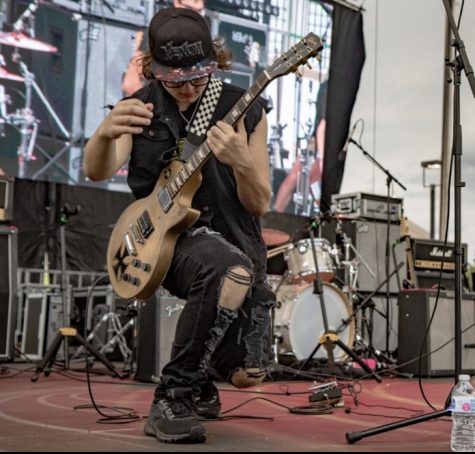 Gabe Josefowicz, Writer
Hello, my name is Gabe Josefowicz, and I am a Junior at Greater Nanticoke Area High School. This is my first year writing for The GNA Insider. I have attended...