The pandemic effect: local and national artists
2020 has been a crazy year for everyone, especially musicians. The local underground music scene is huge and plays a big part in our community. From benefits to punk shows, the scene is intense.
Unfortunately due to Covid-19, concerts have been few and far between. Let's take a closer look at the good and the bad in the music world for 2020. 
The Bad 
The music industry was badly affected in 2020. Many bands that have finally started to get their music played and heard are most hurt by this. Even though we live in the digital age, shows/gigs are still one of the best ways, if not the best way to promote a band and have your music heard. Sure, you can do live streams on Facebook, Instagram, or Twitch, but the feel of live shows just isn't' there. You can't feel the emotion or energy over your phone, laptop, tv, etc. 
Since the shutdown, the music industry has lost over 10 billion dollars in sponsorships. The industry income of over 50 billion dollars is almost split evenly between two categories. Live music makes up for over 50% of the entire revenue from the music industry. Most of the live performance  money is made from ticket sales. The second is recorded music, album sales, streaming revenue, etc. Unfortunately, digital and physical sales are down around 10%. In some markets streaming is also down 7-9%. 
During the first few months of the shutdown, you might have noticed that there have not been many songs in advertisements on TV. Or you've noticed that the same songs have been in the same commercials for the same company. This is because of the loss of sponsorships. This only makes up for 2% of industry revenue but, when you've already lost so much, it always hurts to lose a little more. TV advertisements with music are slowly starting to come back, which is a good sign some things might start to go back to normal.
On March 12th, 2020, Live Nation and AEG Presidents announced that all concerts would be suspended through the end of March. Within a few days, Micheal Rapino, the Chief Executive Officer and President of Live Nation, bought one million dollars in stock in Live Nation because the share prices were so down. It was reported that Li Nation had lost over $435 million dollars in the 1st quarter with a net revenue of 74.1 million dollars. 
Newly formed bands and musicians are most likely out of money at the moment and really struggling with it all. Bands don't really make any money from ticket sales. They make most of their money through merchandise sales. That's why concert T-shirts and other items at concerts are so expensive. Now, of course, you can buy shirts from websites, but some bands aren't at that point yet because they haven't been heard much considering all touring has been canceled – which is rather unfortunate.
Now, some bands and musicians do their own booking so there is no middle man aka a booking agent but these are few and far between. An example of someone who does this is Joe Bonnamassa. Otherwise, record companies and agents are getting big money while some artists are not. The streaming services barely pay anything as well. Some artists get pennies for their music being streamed. Album sales pay the most. Now, this isn't how it is for everyone, but for more than half it might just be the case. 
The Good 
Despite the darkness of this year, there has been some light shed on the music world. Local and national artists have banned together to put on drive-in shows, live streams, and benefits for the arts. These events have happened because of the will of music and live entertainment. Through the worst, music prevailed. 
This summer, there have been many drive-in shows. Locally, places like the "Circle-drive-in" and the "Mohegan Sun Arena" hosted outdoor events.
On Thursday, July 16th live music returned for the first time locally in the "Mohegan Sun Arena" parking lot for "Come Together" a community benefit for the arts. Put on by "Joe Nardone's Gallery of Sound," the concert featured performances by Tigers Jaw, Lifer, Vifolly w/ Shaun Foist of Breaking Benjamin, James Barret, Joe Burek & Co., Dustin Douglas & The Electric Gentlemen, Esta Coda, Modern Ties(aka Black Tie Stereo), The Mule Team, pan.a.ce.a with Aaron Bruch of Breaking Benjamin, University Drive, and Blind Choice.  100% of the proceeds from the event supported several local non-profits, including theaters and performance centers. 
In July, the local music world started to move back to normal. Bands and musicians such as Aaron Lewis, Keller Willams and Cabinet, Marcus King Trio, Steel Panther, Blackberry Smoke, Smith & Myers, The Allman Bretts Band, and more recently bands such as Skillet and Badfish hosted live music events. 
With more shows popping up every day, it appears that things are finally going back to normal. Slowly, but surely, they will. 2020 has been rough for all of us, but, through the worst, we prevail. Music will always find a way….
About the Writer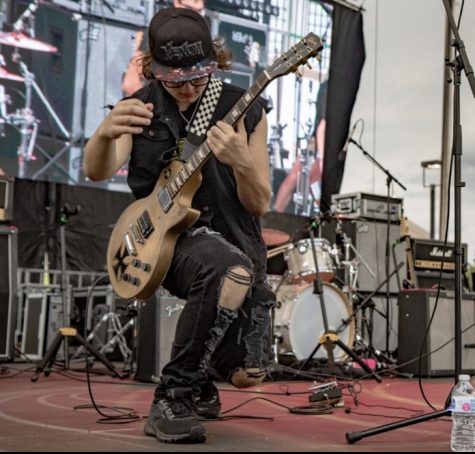 Gabe Josefowicz, Writer
Hello, my name is Gabe Josefowicz, and I am a Junior at Greater Nanticoke Area High School. This is my first year writing for The GNA Insider. I have attended...