GNA's got talent: Lance Jenson, Gabe Jenceleski, and Sean Wolfe
The Greater Nanticoke Area High School has some very talented and gifted individuals. From amazing and exciting performances at school plays to astounding artwork adorning the school halls, the talent here at GNA is second to none. Although involvement in these activities may be an enjoyable experience, this knowledge can help with language development, increased IQ, and higher test scores. Many of us have experienced these talents first hand, but some of the talents here remain hidden. Every month, The GNA Insider will recognize the skills and talent that can be found in our school.
Lance Jenson
Who is your favorite author? Why? What is your favorite piece from said author?
I don't have a favorite author, but there is a blog called "sixpenceee" that shares short stories from various authors; however, my favorite literary piece is Fahrenheit 451 by Ray Bradbury.
What/ Who never fails to inspire your stories?
I often find music as an inspiration. My character's personality depends on the music I am listening to while I'm creating the character. A good example would be Skelly from "Nothing Lasts Forever." I often found myself listening to bands like AC/DC or Guns N' Roses while writing about him and/or the story in general.
What sparked your interest in creative writing?
I don't remember the exact moment that got me interested in writing, but I can thank my fifth grade teacher, Mr. Grant, for really making writing really enjoyable.
You recently attended the Writing Conference at King's College. During the workshops you attended, is there anything new you learned?
I took two workshops, "Plot Structure" and "Characters in Time." In these workshops, I learned how to better lay out my stories and allow them to flow more smoothly, and to also find more effective ways to show to effects of trauma on a character over time.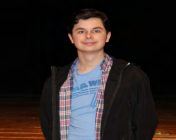 Gabe Jenceleski
Have you always been interested in Theater? And is it something you plan to be involved in after high school?
I have always carried a strong passion for the stage and acting. Theater is something I definitely plan to keep myself involved in long after high school.
Did you ever think you would have the lead role in the school play in you Freshmen year?
The thought has come to me before, though I never truly thought that it would be possible. But, I was wrong!
Did you find the rehearsals and preparation for your part difficult?
Not truly, no, I didn't find it too difficult. Preparation, learning your lines and learning to have someone else's personality, is always difficult to an extent. However, I always have a great time doing it!
How do you prepare for the characters you portray?
I always try to give the character my own twist. But, I try to follow the book.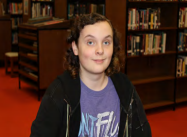 Sean Wolfe
What sparked your interest in creative writing?
I have always enjoyed creative writing. Ever since I was younger, I've loved to read and write! I have also been lucky to have extremely supportive teachers and friends.
What are some things that inspire the topics of your short stories?
A lot of different things inspire me. Feelings, a conversation, a dream, or my surroundings are just a few things that help inspire my creative stories.
Have you submitted any of your work in festivals or contests? If not, do you plan to? And where would you enter your stories?
Actually, I recently submitted my short story, "On Fear and Illusion," which is also being featured here in the GNA Insider, to The Apprentice Writer. I would love to continue to submit my stories to contests in the future!
Do you plan on pursuing writing as a career?
Yes, I absolutely plan on pursuing creative writing as a career.