GNA's got talent: Jasmyne Morgans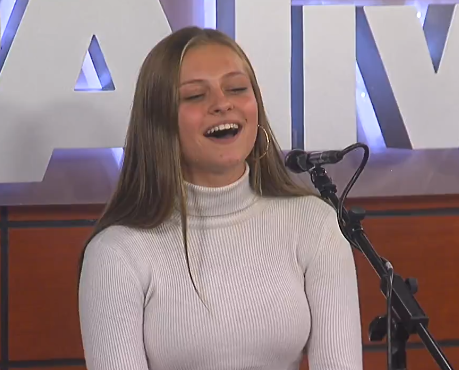 Click here to watch the performance
The Greater Nanticoke Area High School is a showcase for talented students. Jasmyne Morgans, a junior at GNA, recently had the honor of being featured on NEPA Live singing "Girl On Fire" by Alicia Keys. NEPA Live is a show where talent is showcased in a multitude of ways. Some go on and sing, and some play an instrument. NEPA Live also hosts cheerleading squads and marching bands.
The GNA Insider had the opportunity to sit down with Jasmyne to ask her a few questions regarding this experience:
How does it feel to be chosen to perform on NEPA Live?
It's an honor and a huge accomplishment because before this I have only sang at two family parties, and that is it. I have always had stage fright and now I am slowly starting to overcome it. 
What was the experience like?
It was different but really exciting! The studio is smaller in real life than on T.V. so that made me less nervous. The experience of it honestly made me more confident, which makes me a lot happier, so this experience was amazing. 
How long have you been singing?
I have been singing for as long as I can remember! Before I even learned how to talk I would be caught humming along to songs. 
What makes singing enjoyable to you?
I mean, who doesn't love to sing?! It's the best! Singing is just so enjoyable and fun because I get to express my feelings in my own unique way.
What advice do you have for other students who would like to pursue their dream of singing?
Set your goals as high as you can! If you are nervous, just slowly put yourself out there, and your fear will grow weaker the more you do it.