Nanticoke Interact Club gathers for first meeting
Where did that summer go? It's like yesterday that the high school's Interact Club convened in May to celebrate a year of accomplishments and part; and yet here we are, nearly four months later, with a meeting of the student organization in full blow.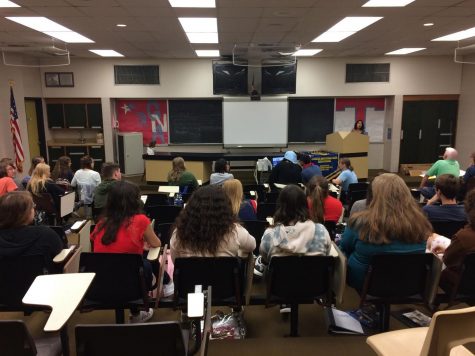 The Interact Club is a student-run club revolving around individual leadership skills, inter-member communication and interaction, and charitable activity; it is a subset of the more famous Rotary Club, and is sponsored by the Kingston affiliate thereof. This is the ninth year of the Interact Club's existence, having originally been founded by Mrs. Irene Carey of the Kingston Rotary.
"I am excited and optimistic," said Mrs. Kelchner—who, in cooperation with Mrs. Iagnemma, is jointly replacing Mr. Budnick as the Interact Club's advisor—about her anticipation of the upcoming year. "We have a wonderful leadership team in place and I think we are going to have a great year!"
Mrs. Iagnemma concurred, noting that "Mrs. Kelchner and [she] are super excited and are hoping to see some new and returning members." Her hopes were proven correct.
During its first meeting, which took place on September 14 in the high school, the Interact Club introduced its officers and voting members, participated in icebreakers in order to get new and returning members alike accustomed and comfortable in each other's presence, and had Alicia Pacheco, one of its two vice presidents (the other being Ariyanna Hrivnak) speak about RYLA – a leadership camp offered free of charge by the Kingston Rotary to several select sophomores who are active members of the Interact Club. Pacheco described it as being enough to make her and co-participants "not want to come back to Nanticoke."
Additionally, board members of the club listed several activities which Interact organizes and in which its members participate. These include (but are not limited to): reading to students in the Elementary and Kennedy Early Childhood Centers, Halloween and Christmas parties, several fundraisers to benefit the Interact Club and third parties (such as Salvation Army), and an Easter Egg Hunt for grades K-2. Furthermore, the club will be partaking in a field trip to the United Nations headquarters and Bryant Park in New York City in November, and an additional field trip to Blue Chip Farm in April.
The Interact Club convenes on Fridays at 2 p.m. and runs from September through May. Its Board and members welcome any curious students to approach Mrs. Kelchner and Mrs. Iagnemma if they wish to learn more, and to join the club in room 226 in the high school for an exciting and remarkable school year.