Coach Matusek stepping down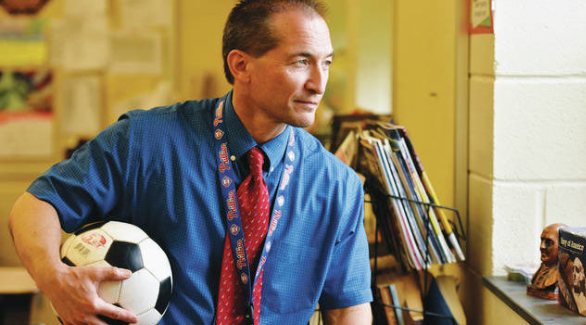 Coach Matusek has been around Nanticoke soccer forever. In fact, he has been the head man for the Nanticoke Area soccer team for 29 seasons, since their inaugural season in 1989. Coach "Matu" has been through everything with the Trojans. From championship runs to some pretty tough seasons, Coach Matusek was there.
But, last Monday, Matusek decided to retire from coaching soccer at GNA.
Coach Matusek has been part of many championship teams, the most recent one coming in 2014 when Matusek and the GNA soccer team won the Wyoming Valley Conference.
The GNA Insider sat down with him to ask about his 29 years with the soccer program.
During your 29 years with the program, is there a particular year that stands out? If so, why?
I would have to say 2003. That was the year we made it to the District II finals against Scranton Prep. We had a big victory over previously unbeaten Dallas to get to the final. After an opening season loss to Crestwood, we came back to beat them three times, including for the league championship and first round in the districts. We also qualified for the State playoffs. Our first round match was against Eastern Lebanon County,  who was ranked #1 in the state at Hershey Park Stadium. Although we played a terrific game we came up short 3-2. ELCO went on to eventually win the State title that year. I was extremely proud of how of how everyone played.
Did you ever have a favorite player to coach?
I've had many players that I enjoyed coaching. One in particular does stand out. Sam Masemer. Sam was my goal keeper on my 1990 team. It was only his second year playing soccer, and first as a goalkeeper. He was one of the toughest kids I have ever coached. He had great leadership qualities, and had a deep desire to succeed and win. He eventually turned himself into a very strong goalkeeper. He also ran cross country during the soccer season. Since we practiced at the Wanamie Rec. Park, he would run from the high school to practice and get in his cross country work. On one occasion we had a match at GAR and he also had a cross country meet there. He ran the meet and then played in the soccer match. He was one amazing individual.
Is there one game that sticks out in your mind when you look back on all the seasons?
There were so many games, but I  would have to say our 5-1 victory over Dallas in 2003 to get to the District final. Dallas was undefeated at 12-0 and the heavy favorite coming into the game. But I had a very strong team led by Antonio Silva, an exchange student from Brazil in the midfield and two great goal scorers in Dave Leiby and Greg Snyder. Along with a terrific backline, Dallas was no match for us that day. We won convincingly.
What is your favorite memory from all your years of coaching the Trojans?
My most cherished memory of all my years of coaching has to be seeing my father at the field watching my games. He passed away in 2011, and it has been difficult coaching without him being there. But I know he was always really there.
Overall, what will you miss most about coaching soccer at GNA?
What I will miss most is working with the players in practice and game preparation. I always enjoyed the process of building the team. From working with the players in developing their skills, to developing a system of play, teaching it to the players, and finally seeing it all come together in a match.
How has soccer changed over the course of 29 years?
29 years is a long time and soccer has evolved in our area over that time. There were some very good players and teams in the league back then. But as time went on the players became more skilled and many teams got much better. The way we prepare teams is a lot different than  29 years ago. The coaching around the league has improved tremendously. I am definitely a much better coach today then when I began. Each year I learned more about the game. And I had many very good assistants that helped me along the way who I am very grateful that they worked for me.