Getting to know our staff: Mrs. Iagnemma
Hang on for a minute...we're trying to find some more stories you might like.
What are your hobbies outside of school?
Video games, cross stitching, reading, Netflix binging, hanging out with my son, Kaleb.
What is something most people don't know about you?
I was a lead in a ballet many years ago. I love making movie references, even though most people don't get them anymore.

If you could meet one person, living or dead, who would it be? Why?
Not sure, I would have to say Robin Williams. It seems like he would be a ball to hangout with.  
What is your favorite band – or – who is your favorite singer?
I couldn't pick anything. I am terrible indecisive and it depends on my mood. This week is Halestorm, last week was Fall Out Boy, before that was Jekyll and Hyde…
What is your favorite song of all time?
My favorites to sing would be Take Me Or Leave Me from Rent or Defying Gravity from Wicked. I like to think I am as good as Idina Menzel.
What is your favorite place to eat?
T.J. Rockwells- a restaurant outside Elizabethtown, PA. they have AMAZING french fries called Rhino Fries. Crispy fries, bacon, cheese, and ranch… oh my!
What is the most unique place you've ever visited? Why?
I went to the United Kingdom for three weeks in high school with People to People.

Do you have any pets? If so, what are they?
2 cats. River and Sithis. River was named after River Song from Dr. Who and she is a troublemaker. Sithis was named after the Lord of Chaos from Skyrim and he is the biggest cuddle bug.
What is the most outrageous thing that has happened to you while teaching?
Well there was last year when my students were so invested in my pregnancy they had polls on what the gender would be and what I should name him. A few actually guessed I would name him Kaleb. Before that, I would say taking part in a Munchkin game on the last day of school.
What is your biggest pet peeve?
When you ask someone to do something and they ignore you.
What inspired you to become a teacher?
I have always loved teaching. My mom said throughout elementary school, my teachers would always have me tutor my peers and whatever grade I was in was the grade I wanted to teach until I reached high school and fell in love with it.
What do you like most about teaching?
I love the interaction with students and building the rapport.
What is your biggest piece of advice for students?
High school is the smallest part of your life. Things seem impossible now and maybe have you stressed beyond belief, but things change and get better later.
About the Writer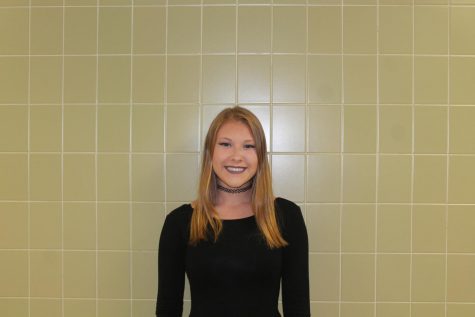 Taylor Zabrenski, Student Writer
My name is Taylor Zabrenski and I am a senior. I enjoy playing soccer, throwing javelin for the track and field team, fishing, taking pictures, doing makeup,...