Getting to know our staff: Mr. Angle
Hang on for a minute...we're trying to find some more stories you might like.
What do you like most about working at GNA?
Being able to return to my alma mater has been very rewarding. Getting to know so many wonderful young adults gives me a positive hope for the future.
Why do you feel it is important to support our students both in and outside of school?
Education is not just in the classroom. Students need to know you are also interested in what they do outside the classroom by attending and supporting their involvement in extracurricular activities.
What are your hobbies outside of school?
Working two jobs seven days a week doesn't afford much time for hobbies. Is traveling to Disney a hobby?
What is something most people don't know about you?
I'm pretty much an open book. I once taught at Bishop Hoban High School (now Holy Redeemer).
If you could meet one person, living or dead, who would it be? Why?
This would not surprise anyone who knows me…Walt Disney. I'm a firm believer in his philosophy, "If you can dream it, you can do it."
What is your favorite song of all time?
It's a Small World, just kidding, Can I Have this Dance by Anne Murray, our wedding song.
What is your favorite place to eat?
1900 Park Fare at the Grand Floridan in Walt Disney World to enjoy a bowl of their famous strawberry soup.
What is the most unique place you've ever visited? Why?
Pearl Harbor, it was more emotional and moving than I could begin to explain.
Do you have any pets? If so, what are they?
I have been married for 35 years and we have had dogs for 34 of those years. We currently have one dog, Snowy; a rescue from the SPCA, a stray cat we took in from the street named Casper, and a turtle we purchased in NYC 18 years ago.
What is the most outrageous thing that has happened to you while working at GNA?
Breaking up a fight in the cafeteria that led me to the hospital for a tetanus shot.
What is your biggest pet peeve?
I have two, people who don't say "thank you" and people who don't acknowledge you when you say "hello."
What inspired you to work in education?
I always wanted to teach, it's rewarding to know you could be a positive influence on someone. I am thankful that after several years away from education, I was able to return to the classroom even if only as a substitute teacher. I sometimes say a substitute is like a grandparent; we get them for one day, spoil them and give them back. I try to go out of my way everyday to make someone feel special  even if it's just a smile and a simple "hello" to someone who seems down or is sitting alone in the cafeteria or the classroom.
What is your biggest piece of advice for students?
Stay true to yourself. Don't let negative people influence you. Set goals in life and don't let anything get in the way. As Walt Disney once said: "f you can dream it, you can do it."
About the Writer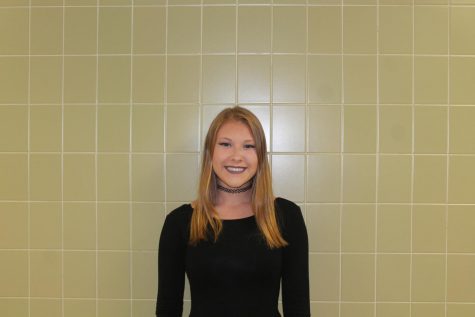 Taylor Zabrenski, Student Writer
My name is Taylor Zabrenski and I am a senior. I enjoy playing soccer, throwing javelin for the track and field team, fishing, taking pictures, doing makeup,...