Getting to know our staff: Mrs. Kelchner
Hang on for a minute...we're trying to find some more stories you might like.
What are your hobbies outside of school?
I like to read and travel. I also love to visit amusement parks and ride roller coasters.
What is something most people don't know about you?
My parents divorced when I was in 8th grade, but reconciled when I was a sophomore in college. However, they are not married.
If you could meet one person, living or dead, who would it be? Why?
I would love to meet Frida Kahlo. She painted her reality, using her art to express her pain in very raw ways. She was bold, particularly for the time period in which she lived.
What is your favorite band – or – who is your favorite singer?
I don't really have a favorite.
What is your favorite song of all time?
"In Your Eyes" by Peter Gabriel
What is your favorite place to eat?
The Melting Pot. Cheese and chocolate…what else does one need?
What is the most unique place you've ever visited? Why?
I think Mexico City is the most unique place I have ever visited because it is full of dichotomies. All at the same time, it is modern and ancient, it is beautiful and ugly, it is glamorous and dirty, it is opulent and poor.
Do you have any pets? If so, what are they?
I have an almost 12 year old Shih Tzu named Chula. She is my baby.
What is the most outrageous thing that has happened to you while teaching?
When I taught sixth grade in Boston. I had a student become really angry at another student. He threw anything he could get his hands on, including desks and chairs. I had to evacuate the other children from the room.
What is your biggest pet peeve?
When people don't follow directions.
What inspired you to become a teacher?
My 6th grade teacher, Mrs. Rishcoff. I had surgery when I was in 6th grade and was in a hospital in Wilmington, DE fro over two months of the school year. Mrs. Rishcoff did everything possible to make me feel like I was still part of our class while I was hospitalized. She had students write me letters, she has students record audio messages for me, and she sent me pictures from class. She sent lesson plans to the hospital teachers so I didn't fall behind. While academics were important, she realized the social aspect of school was just as important.
What do you like most about teaching?
I love teaching students about other cultures. The world is so big and beautiful, and I want them to experience that at least a little bit.
What is your biggest piece of advice for students?
Do your part and don't be afraid to ask for help when needed!
About the Writer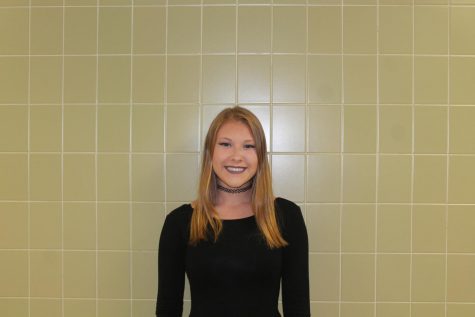 Taylor Zabrenski, Student Writer
My name is Taylor Zabrenski and I am a senior. I enjoy playing soccer, throwing javelin for the track and field team, fishing, taking pictures, doing makeup,...