Sophomore Madelyn Bugdonovitch featured as student columnist in Citizens' Voice
GNA travel programs broaden horizens
Sophomore Madelyn Bugdonovitch featured as student columnist in Citizens' Voice
Hang on for a minute...we're trying to find some more stories you might like.
"The world is a book, and those who do not travel read only one page" – Augustine of Hippo. Traveling can open minds, giving a new sense of responsibility and a new sense of self to the traveler. The Greater Nanticoke Area High School gives its students the chance to step outside the mere walls of the classroom and take advantage of opportunities to get out of town, out of state, and even out of the country. Traveling internationally allows students to broaden their horizons. The best education comes from real life experiences and immersing students in a hands-on curriculum is possible through travel. Seeing how others live around the world can give students a better understanding of culture and a better awareness of global issues. "International travel is so personally enriching; you get to see how other people live and think. As a teacher, it is amazing for me to see students so engaged in such a different environment," says Mrs. Linda Kelchner, Spanish teacher at GNA and chaperon for many of the international excursions.
Through many of its programs, Greater Nanticoke Area affords students the opportunity to experience new places and cultures, to talk with people of other nationalities, to try foods different from that which they are used to, and to really step outside of their comfort zone and explore the world around them. They also get the chance to meet students who are traveling from other areas, and in some cases, to form lifelong friendships. By choosing to travel, students are allowing themselves a chance to grow and change in many positive ways.
For many students at GNA, this is their first time traveling alone without their families. This environment provides a chance to develop essential life skills such as decision-making, self-sufficiency, and money and time management. Studying abroad and traveling internationally can help bring about a sense of independence that is essential for life after high school. These unique opportunities have been offered thanks to teachers who know and understand both the personal and educational value of international travel. GNA has teamed up with WorldStrides to educate and make dreams of travel come true.
WorldStrides has over fifty years of travel experience, taking over seven million students all over the globe. WorldStrides is not just a travel company but an actual accredited school. It's just like other schools, but without the walls. They have a curriculum and an academics department that offers official academic credits to student travelers. Student travelers have the chance to complete online courses regarding the location they have travelled to and the things they experienced while there. By completing these courses, students can earn free high school credits and/or three college credits, truly making the most of their international travel.
Last year, students from GNA traveled to Costa Rica. It was a nature-based trip that included time spent in the rainforest where students observed and studied the bats that inhabit the area. The travelers tested the waters of the Sarapiqui River, ran various experiments, and participated in many exciting activities, such as ziplining through the jungle. "I watched students grow and begin to take risks. I watched them learn and become willing to try new things. Seeing these children develop, I find, is more rewarding than the trip itself. It was amazing to watch them discover a whole new side to themselves," said Mrs. Kelchner. Everyone who attended this trip experienced something profound and returned with a new perspective and an improved self-confidence. "We had a student who absolutely did not want to zipline and, on the way up inside of the tramcar, he was second guessing his decision. Later on, that particular student was ahead of me. I called out, 'Hey, are you liking it?' and his response was, 'No, I'm loving it!' This brought tears to my eyes because here was a student who was dead-set on not participating. He took a risk and then had an amazing life-changing experience," stated Mrs. Kelchner.
For the 2016-2017 school year, students from GNA will travel to South America and spend 10 days exploring the country of Peru. This is a cultural and historical based trip where students will visit several sights and museums in Lima including the Lima Cathedral, the Plaza de Armas, the Presidential Palace, and the famous Larco Museum, where over 4,000 years of Peruvian history is showcased. After sightseeing around the "City of Kings," students will fly to the Sacred Valley of Cusco, the heart of the ancient Inca Empire. There, they will be following the Inca Trail and visiting several historic sites, such as the ancient ruins and temples, and the Inca baths of Tampu Mach'ay. Travelers will participate in a full day excursion to explore Peru's most famous destination, the Lost City of Machu Picchu, which sits high up in the Andes Mountains. They will also be spending a few days exploring the Amazon Rainforest. Additionally, unique educational experiences will await them in Peru, where students will be visiting an Incan Tribe to learn about, watch, and participate in one of their ancient rituals to honor and give thanks to Mother Earth. Students will be spending time at a Peruvian School where they will have the opportunity to interact with Peruvian students. These are just a few of the incredible places and exciting things the students at Greater Nanticoke Area will be fortunate enough to experience.
Next year, students will be given the rare opportunity to visit Iceland for an entire week of nature and science based experiences and experiments. Students will find themselves face to face with opportunities to view some of the most amazing sights in the world and can explore Icelandic life and visit numerous museums and villages in and around Reykjavík. Iceland is known as the "Land of Fire and Ice" due to the many volcanoes and glaciers that cover the country. GNA students will study volcanoes, climb massive glaciers, explore ice caves, observe geysers in action, and hike to breathtaking waterfalls. The trip will conclude with a swim in the Blue Lagoon, a natural geothermal spring. It is sure to be an adventure that students will not soon forget.
The Greater Nanticoke Area School District also offers a variety of travel opportunities within our country as well. Members of the chorus enjoy a trip to New York City every spring where they sightsee and attend a Broadway show. The Marching Band embarks on an annual trip to various locations where the days are filled with fun and interesting events, sights, and activities. In past years the GNA Marching Band has visited Boston, Virginia Beach, Williamsburg, Cleveland, Pittsburgh, New York City, and even ventured across the border to Canada to visit Toronto and Niagara Falls. Seniors at GNA have the chance to visit Washington D.C. with their American Civics classes and also travel to Florida every spring to spend a week in Disney World and at Universal Studios. All of these opportunities provide the students at Greater Nanticoke Area with affordable, once in a lifetime experiences and unforgettable memories they can carry with them throughout their entire lives.
These experiences can undoubtedly help shape the students at Greater Nanticoke Area, giving them a sense of purpose and place in the world, as well as helping them establish lifelong values, priorities, independence, and confidence. "Lessons learned while traveling definitely transfers into students' lives when they return home as well. I think they gain a lot of patience but, most of all, an opening of their world view," says Mrs. Kelchner. The benefits of travel are endless and students can gain invaluable perspective of the enormous and diverse world around them. Former First Lady Michelle Obama summed it up best when she said: "…studying abroad isn't just an important part of a well-rounded educational experience. It's also becoming increasingly important for success in the modern global economy. Getting ahead in today's workplaces isn't just about the skills you bring from the classroom. It's also about the experiences you have with the world beyond our borders – with people, and languages, and cultures that are very different from our own."
About the Writer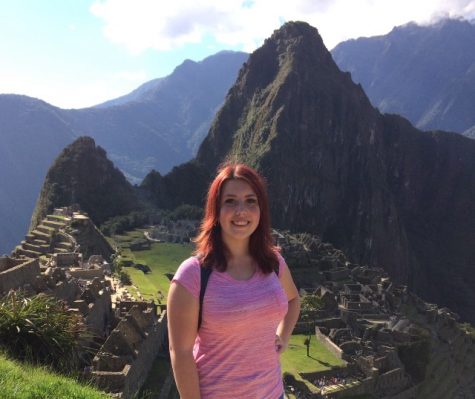 Madelyn Bugdonovitch, Student Writer
My name is Madelyn Rose Bugdonovitch, and I am a senior. I am currently attending college part-time along with high school through our school's Dual Enrollment...