Getting to know our staff: Ms. Iacovazzi
Hang on for a minute...we're trying to find some more stories you might like.

Getting to know our Faculty, Staff, and Administration
What are your hobbies outside of school?
Spending time with my family. I go to my grandparents' for dinner every week, and my other grandpa and I like the Chinese Buffet. I love being outside too and being with my dogs. Love music and going to shows too.
What is something most people don't know about you?
I'm a huge Bon Jovi fan and I've seen him 4 times- once being in Greece at the Athens Olympic Stadium.
If you could meet one person, living or dead, who would it be? Why?
Steve Irwin, the crocodile hunter. He was my hero growing up and I love his zest for life and animals.
What is your favorite band – or – who is your favorite singer?
I like quite a variety– LOVE Bruce Springsteen, Boston, OAR, Fleetwood Mac, the Gaslight Anthem, and Jack Johnson
What is your favorite song of all time?
"The One I Love" by David Gray- love him!
What is your favorite place to eat?
Revello's Pizza in Old Forge, Colarusso's in Avoca, or Chipolte
What is the most unique place you've ever visited? Why?
Istanbul, Turkey was a neat place to visit. It lies on two continents: Europe and Asia. I visited both sides, but I also got food poisoning from eating at a restaurant under the Bosphorus Bridge.
Do you have any pets? If so, what are they?
Yes! I have a 9 year old German Shepherd named Heidi and a 1 year old Corgi named Finley. They are the absolute loves of my life and we go everywhere together.
What is the most outrageous thing that has happened to you while working at GNA?
What happens in guidance, stays in guidance… 🙂
What is your biggest pet peeve?
Paying for shipping when online shopping and when people reply with "K."
What inspired you to work in education?
I had a social studies teacher in 9th grade and 11th grade, Mr. McDade. He was the best and really taught me a lot. He was one of those teachers who taught you about life too.
What do you like most about working for the GNA school district?
The students! They make my day!
What is your biggest piece of advice for students?
When faced with a problem, ask yourself if it will matter in 5 years from now. If not, then try not to spend more than 5 minutes worried about it. In 5 years, you will thank yourself.
About the Writer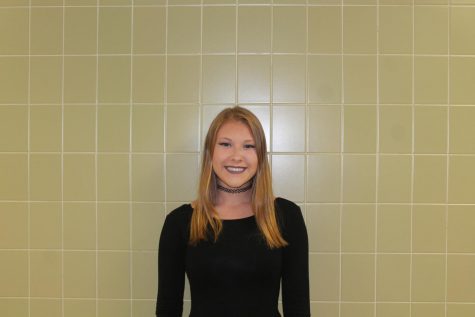 Taylor Zabrenski, Student Writer
My name is Taylor Zabrenski and I am a senior. I enjoy playing soccer, throwing javelin for the track and field team, fishing, taking pictures, doing makeup, and spending time with my family and friends. I am a 4 year member of and letter recipient on the girls varsity soccer team, a 4 year member...