Getting to know our teachers: Mrs. Jeffries
Hang on for a minute...we're trying to find some more stories you might like.

Getting to know our Teachers
What are your hobbies outside of school?
Reading, gardening, baking, and spending time with my family.
What is something most people don't know about you?
I had a short stint as a mail carrier.
If you could meet one person, living or dead, who would it be? Why?
Stephen King. I admire his brilliance and attribute my desire to be an English teacher to his excellence in writing.
What is your favorite band – or – who is your favorite singer?
What is your favorite song of all time?
"Under Pressure" by David Bowie.
What is your favorite place to eat?
What is the most unique place you've ever visited? Why?
Playa Del Carmen. It was probably simultaneously one of the most beautiful and frightening places I've ever visited. Gorgeous sights, beautiful landscapes, interspersed  with great poverty and a multitude of machine gun carrying soldiers.
Do you have any pets? If so, what are they?
Yes, I have a German Shepard named Cosmo Kramer. She is 10 and is the best dog I have ever had.
What is the most outrageous thing that has happened to you while teaching?
During 2nd period, I realized that I came to school wearing two different shoes.
What is your biggest pet peeve?
I have a real problem when people say the following: punkin, chimley, libary, samwhich.
What inspired you to become a teacher?
In addition to my love of reading, working as a secretary in a school played a role in inspiring me to teach. I greatly enjoyed watching what went on at Pope John Paul II Primary Center.
What do you like most about teaching?
The sense of accomplishment  I feel when students learn what it is I'm teaching them is second only to knowing I have made a difference in their lives. I love my job and my students.
What is your biggest piece of advice for students?
My best advice to students is that any job worth doing is worth doing well. You should ALWAYS do your best in whatever you do. Regardless of what happens, no one can ever take that away from you.
About the Writer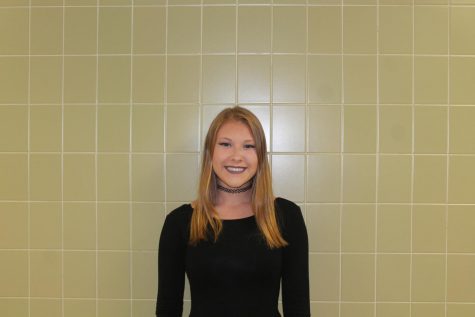 Taylor Zabrenski, Student Writer
My name is Taylor Zabrenski and I am a senior. I enjoy playing soccer, throwing javelin for the track and field team, fishing, taking pictures, doing makeup, and spending time with my family and friends. I am a 4 year member of and letter recipient on the girls varsity soccer team, a 4 year member...