GNA CAMPUS –  Every high school has athletes, and every high school has band kids. What about the students who have hobbies outside of school?
Travis Fenner, a junior at Greater Nanticoke Area High School, has a particularly interesting hobby that he wants to share with the world. He considers himself a paranormal investigator.
The GNA Insider got a chance to sit down with Travis at The Paranormal Calamity and ask a few questions about his paranormal escapades.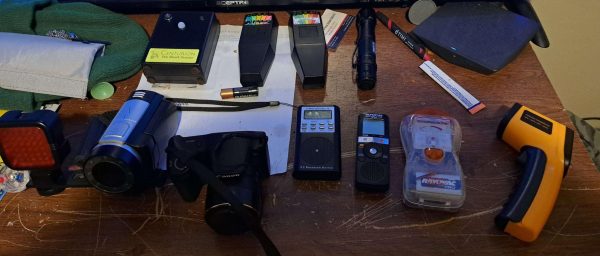 Introduce yourself!
My name is Travis Fenner, and I am a co-owner of The Paranormal Calamity. Not only am I a co-owner, but I'm also one of the lead investigators. I uploaded some of our investigations to our YouTube page!
Can you tell us about your channel, and what you do there?
We work with our good friends at the Ghostly Images of Gettysburg and do paranormal investigations!
Can you tell us about the equipment you use, and what your favorite device is?
Some of the equipment we use consists of the SB7-Spirit Box, Digital Recorder (Used for EVP), EMF readers, motion sensors, and a useful gadget called the catball, which lights up when moved! My favorite device is the spirit box.
What do you like about what you do?
I like learning about the history of each location we investigate.
What places have you traveled to for this?
We've gone to the Gettysburg Murder House, Field Hospital, Jenny Wade House, and the Gettysburg Orphanage.
What is the scariest thing that has happened to you during a ghost hunt?
At the Gettysburg Field Hospital, our guides' bag was thrown at me.
Is this something you'd want to pursue in the future, or as a career?
It definitely is.
What are your goals when it comes to what you do?
Learning as much as possible about who I come into contact with.
Do you have any advice for other people who want to pursue ghost hunting?
Buy equipment, research your location, and make sure you have knowledge of what you're doing.
Is there anybody you'd like to give a shoutout to?
I would like to shout out Epic Paranormal, Spirit Stalkers, Clayten Ghost Chaser, and the Ghostly Images of Gettysburg.
–
Since we are coming into October, Travis' hobbies are very on-brand, giving The GNA Insider a spooky look into what he does in his free time.