Top 10 stocking stuffers for children ages 1-3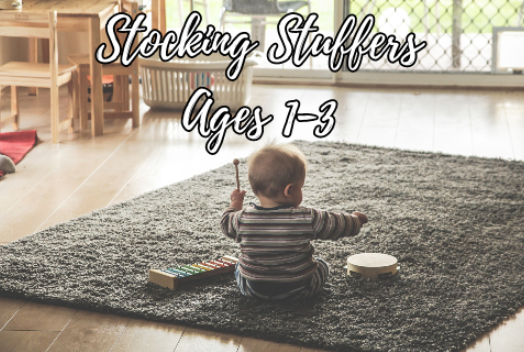 Children can either be the easiest to shop for or the most difficult, depending on the person shopping for them. On one hand, many children will be ecstatic to see any little toys or trinkets, but many are particular about what they like. For younger children, ages 1 to 3, shopping can be difficult by the child's limited communication abilities. To the parents out there, this one's for you: the Top 10 stocking stuffers for children ages 1 to 3. With a variety of items guaranteed to make a child happy, there's something for every little one on this list.
Stuffed Animals – Children love all things soft and plush. Whether it's a character from their favorite cartoon or a basic teddy bear, children would love stuffed animals to play with and love.
Teething toys – There are many different kinds of teething toys perfect to ease the discomfort of teething in little ones. Nuby makes a Keys Teether Toy perfect for younger kids.
Sensory cubes – There are many sensory cubes on the market to keep children entertained and calm, including the Vtech sensory cube . These fabric cubes have many activities, colors, textures, and sensory inputs for children to regulate emotions and learn to engage with the world around them. Along with the market-produced ones, many people sell sensory cubes on Etsy, with endless possibilities available.
Board books – Board books are staples for young children just learning language, allowing their parents to read simple stories to them that keep their focus. There are many holiday-themed board books too, like The Very Hungry Caterpillar's Peekaboo Christmas and Uni the Unicorn: Reindeer Helper. 
Bath toys – Keep bath times entertaining with fun water toys. There are many, many options on the market like Crayola Bathtub Markers  that allow kids to get creative and the Green Toys Ferry Boat with Mini Cars.
Fisher-Price Little People – These toys and playsets are perfect for younger children since they don't usually come with small pieces. They have many different options as well, including their Play House.
Wooden Puzzles – Wooden puzzles are the best of both worlds: Developing children's critical thinking skills while still being manageable for tiny hands.
pipSquigs Loops -This rattle/chewable toy hybrid can suction to any surface. It also has a delicate texture kids will love.
Bubble bath – Make bath time fun with soapy, sudsy goodness. Most kids love a good bubble bath!
Lego Duplo Sets – Lego Duplo is a branch of Lego adapted for smaller children. With no small parts and many sets available, children will remain entertained by creating their own stories and adventures.