Getting to know our teachers: Mr. Stetz
Hang on for a minute...we're trying to find some more stories you might like.

What are your hobbies outside of school?
I like to chill without the Netflix. (Family and friends are Gucci)
What is something most people don't know about you?
I wanted to be a soap opera actor. (General Hospital or Beverly Hills 90210)
If you could meet one person, living or dead, who would it be? Why?
Pat Tillman- legend, beast mode
Thomas Jefferson- creative, optimistic

Wu-Tang Clan- straight fire

What is your favorite band – or – who is your favorite singer?
My set list is listed below.
What is your favorite song of all time?
These songs offer powerful meaning to my life…
Rod Stewart- Forever Young
Bob Marley- Three Little Birds
Garth Brooks- It's Your Song
Lynyrd Skynyrd- Simple Man
Dave Matthews Band- Funny the Way it is
What is your favorite place to eat?
Anywhere with my son, Chase, he loves to eat good food and be around people, and my wife, Erica.
What is the most unique place you've ever visited? Why?
Long John Silver. A few years ago we had a team dinner there for softball and Jimmy showed up…very memorable

Penn State, (zzzzz…)
Do you have any pets? If so, what are they?
What is the most outrageous thing that has happened to you while teaching?
Teaching and coaching at Nanticoke is a blast and to single out one moment is difficult.
What is your biggest pet peeve?
When the water in the Kuerig is not filled up. 🙁 (I'm hyper organized)
What inspired you to become a teacher?
The great teachers and sense of community motivated me to be part of something bigger than myself. My first semester of college I was a business major; I'm glad I changed my major.

What do you like most about teaching?
Meeting and working with new, diverse students and the ebbs and flows of an unpredictable school year from late summer and back around again.
What is your biggest piece of advice for students?
Advice is what we ask for when we know the answer but wish we didn't. Not really big on advice but I do have "kennels of wisdom" I love to share.
About the Writer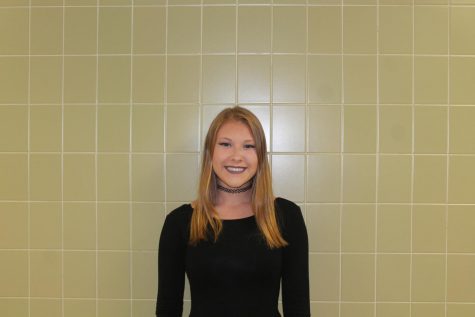 Taylor Zabrenski, Student Writer
My name is Taylor Zabrenski and I am a senior. I enjoy playing soccer, throwing javelin for the track and field team, fishing, taking pictures, doing makeup, and spending time with my family and friends. I am a 4 year member of and letter recipient on the girls varsity soccer team, a 4 year member...