Alexis Atkins- WVC girls goal leader
GNA CAMPUS – Alexis Atkins is a four-year varsity soccer member who devotes her time and hard work to her sport. Alexis has been playing soccer for 12 years of her life for many different teams including travel, high school, and recreational. Only halfway through the season, Alexis surpassed herself in the previous years. Last year she ended the season with 8 goals. This year she's on top in her conference with 18 goals halfway through the season.  Throughout the games, she averages around 3 goals per game. She hopes to go on in the season only to progress herself and push herself to get more and stay on top.
What is your favorite part of playing sports at GNA?
My favorite part of playing sports at GNA is being a part of the soccer team and being around my teammates. Even if the game isn't going our way, we always find a way to have a good time.
Who has been the most influential to your success and why?
If I had to pick one person who has been the most influential towards my success, it would defiantly be my mom. She has always pushed me to do my best and continuously supports me in everything I do.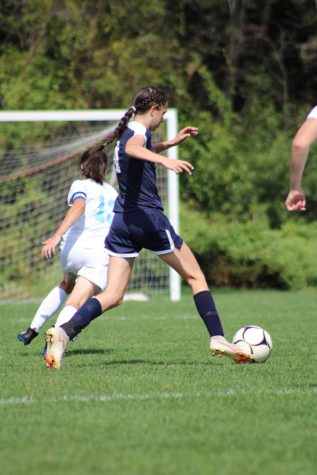 Why do you think athletics is an important part of high school?
High school athletics allow students to stay active and become involved in the community. Being part of a team teaches leadership and responsibility to student-athletes as well.
At what age did you start playing this sport?
I have a variety of sports while growing up. But I started playing soccer when I was in kindergarten.
What sports do you play?
I have been a member of the girl's varsity soccer team and the varsity track and field team since I was a freshman.
What is your favorite sport?
My favorite sport has got to be soccer. I've been playing for as long as I can remember and cannot recall a time
where soccer wasn't my favorite.
Where do you see yourself in 5 years? 
In five years I hope to see myself graduating from college and starting my career.
What motivates you to play this sport?
My motivation to play soccer comes from my family. There are some games where I just really don't want to be there or I'm not doing the best, but seeing my family on the sidelines supporting me always makes me want to do my best.