GNA mourns the loss of influential alumnus
GNA CAMPUS-Former GNA graduate Dr. Stanley Dudrick passed away at 84 in his home in New Hampshire.
Dr. Dudrick, whom the Greater Nanticoke Area High School library is named for, was a well-known physician whose invention of intravenous feeding saved countless lives.
Back in 2013, The GNA Insider interviewed Dr. Dudrick. In that interview, he discussed his fondest memories of Nanticoke High School, his involvement in extracurricular activities, and his accomplishments and honors. He also gave advice for students to follow.
Throughout the interview, Dr. Dudrick's pride in GNA and his hometown of Nanticoke was evident in his answers to the questions we asked.
Here is a look back at Dr. Stanley Dudrick's interview with The GNA Insider:
What are your fondest memories of Nanticoke High School?
My fondest memories of Nanticoke High School (NHS) are related to the many precious life-long friendships that I gained there, and which have enriched my life. My school mates and I shared a spirit of loyalty to NHS and pride in being who we were and what we represented in a school and community that was independent, unique, and special rather than a product of our larger, more richly endowed neighbors in the schools up the Susquehanna River. Our sports teams were always formidable competitors, and their successes reinforced our loyalty and fanatic support. Our academic, cultural, social, and musical activities were also sources of great pride and satisfaction. The entire culture of the NHS community was friendly, congenial, educational, helpful, supportive, and dedicated to our best interests, starting with the faculty and administration and pervading throughout the entire student body. It was a healthy "can do," "one for all and all for one" environment which instilled competence, camaraderie, and confidence in all of us who sought a useful, knowledgeable education and experience reinforced with good judgment and wisdom to prepare us for our future.
As a student at Nanticoke, you were involved in many aspects of school life. How did participating in extracurricular activities help prepare you for life after high school?
We were blessed with a wide assortment and variety of extracurricular activities to supplement our formal education in a manner which allowed all of us to pursue interests and challenges outside of the curriculum. This fostered individuality and creativity, coupled with exposure to additional opportunities for leadership and expressions of intellectual, social, musical, and athletic activities and talents. These activities also emphasized the importance of teamwork, cooperation, mutual respect, diversity of ideas, opinions and beliefs, and respect for order, process and the elements of compromise and collaboration in order to achieve mutual goals. We also were imbued with an ethos of service, self- sacrifice for others, responsibility, self- discipline, persistence and resilience which enriched my formal education at NHS and helped significantly to prepare me for the challenges I faced in the outside world. Some of these activities taught me that life itself was a contact sport, and that diligent practice, preparation, conditioning, and courage were requirements for optimal success and survival.
What is the best piece of advice you can give to a student today?
Prudently establish your goals and then focus on achieving them by working as hard, conscientiously and consistently as you can toward achieving them. Never give up. There will always be dangers, challenges, and risks involved. Expect them, anticipate them, do your best to avoid them, and if they are unavoidable, do your best to overcome them. Remember, never fear failure. Historically, it has been shown time and again in the lives of the greatest achievers, that failure is often a prelude to success.
Live in accordance with the "golden rule" to do unto others as you would have others do unto you. Do everything you can to achieve your God-given potential to its fullest extent. Finally, remember that if you always do good, you will do well.
Of all your accomplishments and honors, which are you most proud of and why?
I am most proud of having collaborated with my wife of 55 years, Theresa, in producing six wonderful children and sixteen very special grandchildren. My greatest professional accomplishment has been the basic development and the successful clinical application of Total Parenteral Nutrition, which is the first intravenous feeding technique that allows us to grow babies fed entirely by vein and feed adults virtually for life, if necessary when they cannot eat adequately or at all. This technique has changed the way medicine is practiced forever, has already saved millions of lives worldwide, and is highly likely to enhance or save the lives of countless human beings in the future. I have received multiple awards in recognition of that accomplishment and others related to it, but none mean more to me than the immense gratification that I have felt, and continue to feel, from having been able to make this contribution to humanity. Another accomplishment that I have cherished has been the opportunity to be one of the founders and the first Professor of Surgery and Chairman of the Department of Surgery at The University of Texas Medical School at Houston which recently celebrated its 40th Anniversary and enjoys recognition as a top-flight medical school in this country producing 200 physicians a year. Finally, I am most pleased to have served since 1972 as a full Professor of Surgery for more than 40 years at The University of Pennsylvania, The University of Texas, Yale University, Misericordia University, and currently at The Commonwealth Medical College here in Northeastern Pennsylvania. Thus, the exciting, satisfying, and privileged professional life that I have led has now come full circle to allow me to return to my hometown roots to serve the people from whom I arose and to whom I owe so much.
Click here to read the full interview of Dr. Stanley Dudrick by The GNA Insider.
Click here to read Dr. Stanley Dudrick's obituary. His full obituary will appear in the Citizens' Voice on January 23.
About the Contributors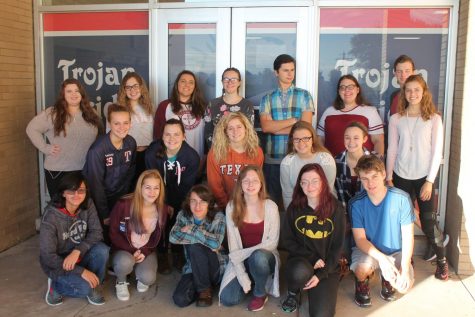 The GNA Insider Staff, Staff
The GNA Insider is your #1 source for inside information on the happenings within the Greater Nanticoke Area High School. "The GNA Insider" features...