Free SAT Prep courses at GNA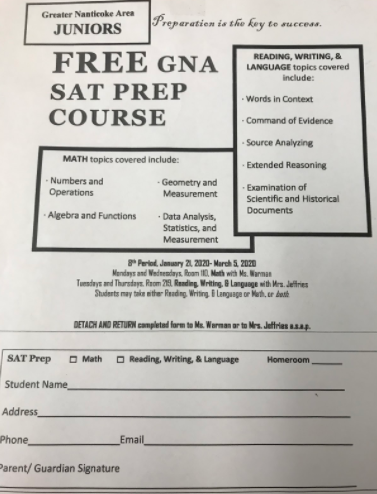 GNA CAMPUS- GNA will be hosting SAT Prep courses for juniors who wish to prepare for the exam and improve upon the score they previously received. The classes are free of charge, and they will be held during 8th period starting on January 21, 2020.
Students may sign up for math sessions with Ms. Warman that will occur in Room 110 on Mondays and Wednesdays where topics such as numbers and operations, algebra and functions, geometry, data analysis, statistics, and measurements will be covered.
Reading classes with Mrs. Jeffries is also available for students to sign up for. These sessions will be held in Room 219 on Tuesdays and Thursdays, and the topics that will be covered include words in context, command of evidence, source analyzing, extended reasoning, and examination of scientific and historical documents.
Any students who wish to attend are to fill out the form that was handed out to them in homeroom and return it to Mrs. Warman or Mrs. Jeffries. Spots for these sessions are limited, so it is advised that action be taken immediately.