Former GNA journalist continues path to success
EMERSON COLLEGE- Since graduating from GNA, Aaron Miller has achieved many of his goals and has been provided with a multitude of opportunities. Aaron is currently a sophomore majoring in journalism and minoring in esports communication at the top journalism college in America. He hopes to continue to move forward and meet all of the expectations that he has set for himself. 
Aaron, a 2018 graduate of GNA, wrote for The GNA Insider for two years and helped to create the format of the online version of the high school newspaper. Single-handedly, Miller transformed the outdated paper version of the newspaper to the interactive experience that it is today. Snosites, the web hosting service, is used by hundreds of high schools across the country as well as many top colleges and universities.
After being accepted into Emerson College, Aaron slowly built up his profile until he was hired to be the Sports Editor of The Berkeley Beacon in the second semester of his freshman year. He was assigned many tasks to fulfill, such as reporting, assigning, editing, and publishing 125 articles on Emerson's men's basketball team, the New England Women's and Men's Athletic Conference (NEWMAC) championship victory, and a variety of other topics. Aaron was also accepted into the Spring 2020 Kasteel Well study abroad program in Well, The Netherlands that spans from January 23, 2020 to April 22, 2020. 
The Kasteel Well program is a unique study opportunity that allows 90 Emerson students to go to The Netherlands for one semester. Students must apply a year in advance, and a random lottery system is used to select the students who will go. Since he was chosen, this opportunity will enable Aaron to study abroad for three months after he departs on January 23 and travels to a total of 16 countries. While visiting other countries, Aaron has decided to write and video a project profiling individuals from every country he goes to as he is immersed in European culture. After he returns to the United States, Aaron hopes to sell the complete project to news organizations across the country in an attempt to educate people on the many different lifestyles of people all across Europe.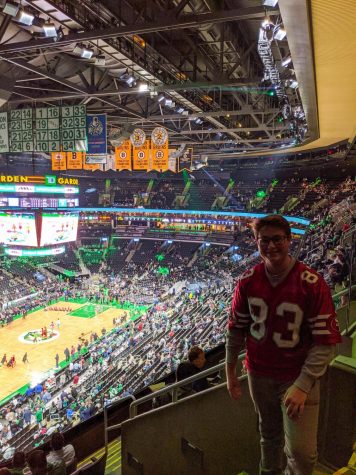 Over the summer, Aaron contacted Matt Bufano, a sports reporter for The Citizens' Voice, who connected Aaron to Larry Holeva, the Executive Editor of Times-Shamrock Communications, and Tony Maluso, the Sports Editor for The Citizens' Voice. They hired Aaron to be a non-paid newsroom intern who had the job of reporting and covering American Legion Baseball, Little League Baseball, human interest stories, profiles, and other news stories. 
During this time, he also continued working at Wegmans and enrolled in three online classes at Luzerne County Community College. The combination of credit that Aaron earned at the Citizens' Voice and through LCCC is allowing him to graduate a full year earlier than expected (Spring 2021 rather than Spring 2022).
After Aaron returned to Boston in late August and resumed his role as Sports Editor of The Beacon, the newspaper expanded the sports staff from three editors to five and introduced the section to coverage of the New England Patriots, New England Revolution, Boston Red Sox, Boston Celtics, and Boston Bruins. They've already surpassed their total article account from last semester which is not a simple feat. One of the members of Aaron's staff was even hired to be a Boston Globe sports correspondent, leaving Aaron to be very proud of him.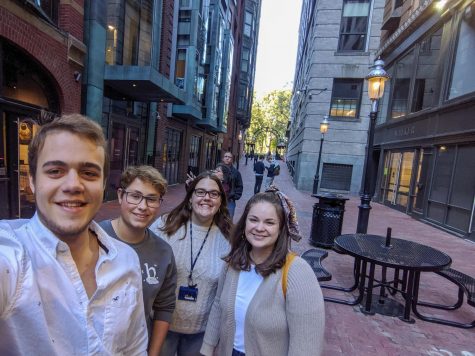 In regards to his current semester, Aaron hopes to stay sane and cover as much basketball as he can before his winter break and Spring 2020 study abroad. He also has applied for many internships for Summer 2020 but has not heard back yet, causing him to keep his fingers crossed for responses. It is Aaron's goal to receive The Seattle Times sports reporting internship because of the opportunity it will give him to obtain a future career.
Aaron Miller has written a variety of articles about sports and other news topics while at Emerson. If desired, one can access his portfolio by clicking here.