2016 GNA Class President Alexis Selli offers advice to the class of 2017
"Be ready to pursue your dreams wholeheartedly and without self-doubt."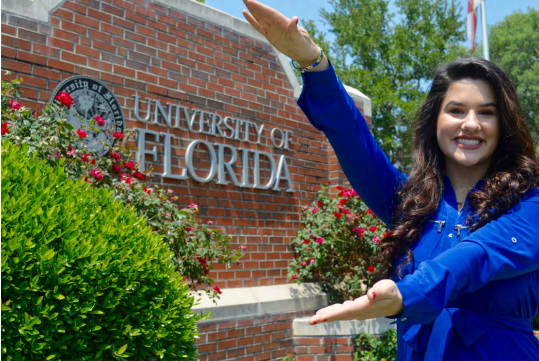 Alexis Selli (Original Author) and Haileigh Hendricks (Uploaded By)
June 15, 2017
Dear Class of 2017,
This time last year, I was preparing my address to the senior class at GNA. The wisdom that I chose to share with my fellow classmates was the importance of being "ready not waiting." It is now one year later, and I can truthfully say that no words have rang more true.
Like most of you seniors, I was reared in Nanticoke. That means, I attended the same rivalry basketball games against Hanover, ate the same Angelo's pizza, and made the same occasional trips down Happy Valley. Those have been some of the greatest memories, but I wanted more. I promised that if the opportunity presented itself, I was going to be ready, not waiting, to accept the challenge.
I believe that whatever you do in life, you should give it your best effort, and if your effort isn't good enough, you don't give up, but you find a way to make it better. I applied this philosophy to all of my passions in high school, such as dance and sports, but most importantly, academics. This may sound old school, but the key to success is, has been, and will always be a good education. It's YOU, not the high school you go to or your parents who determine how driven you are to receive an education. I believe this with all my heart; therefore, I always gave my best effort at GNA. Was it enough? Was I ready? The answer is yes.
I knew I was going to college, but where? For what? Doesn't this sound similar, seniors? Like some of you, I applied to several colleges with hopes of being accepted. Every single one at first except my dream college, University of Florida, because I had no chance of getting in, right? I mean, did I really want to leave PA? Was I ready? I wasn't sure, so I applied the day before applications were due 'just in case.'
Acceptance letters started arriving, and then I opened the University of Florida letter. I got accepted and simultaneously opened a fortune cookie that said, "you are offered an opportunity of a lifetime say yes," so I decided that I was ready to be an incoming Gator.
After doubting my credentials, I am happy to announce that I just completed my freshman year at UF, and I'm about to start research, which I highly recommend. I have done well academically, but I did go through an adjustment period.Don't worry this is common when you venture out into the world, and you will get through it if you love what you're doing.
What do I mean by that? Well for example, the campus at UF contains over 50,000 students, much bigger than Nanticoke, so it is easy to get lost. Upon arrival, I got involved in dance, soccer, and joined pre-dental society. This allowed me to meet like- minded individuals to help me better adjust to the different atmosphere because I still remained true to my passions.
I also made sure I took my academics as seriously as I did at GNA. Actually, more seriously to be honest. Academics at college are more off the charts than in high school, and no, I was not ready for that. Be prepared to hit the books and manage your time better than the normal cramming to learn a whole Shakespeare speech in two hours. (On a side note knowing that whole speech is impressive in college. Use that skill to your advantage. Thanks Miss Hyder.)
I am currently a pre-dental dual major Biology and Anthropology student with a dance minor at the University of Florida thanks to the support of my family and GNA. In the next few years, I plan on becoming a Navy dentist, which will give me the opportunity to help people from our home town who gave me and all of you the opportunities to become successful. I feel so blessed to have been ready when opportunity came my way. So, class of 2017, I encourage you not to wait to pursue your dreams when the opportunity is given to you, but instead be ready pursue them wholeheartedly and without self-doubt.
I wish you the best of luck in your future endeavors!
-Alexis Selli