GNA journalist Harley LaRue featured in Times Leader 'Excel'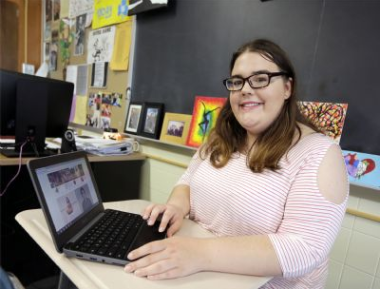 Hang on for a minute...we're trying to find some more stories you might like.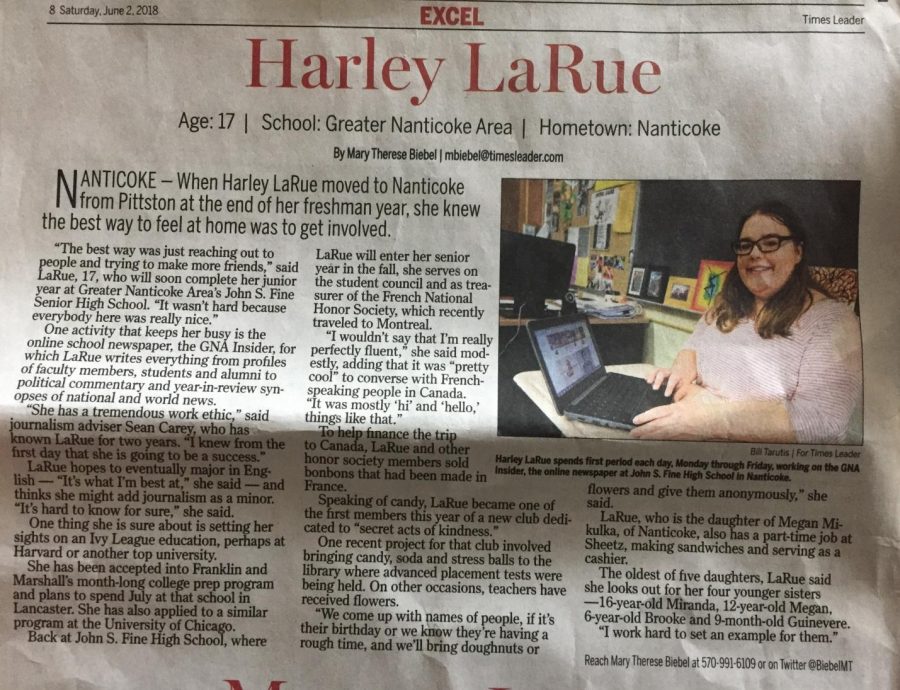 From the Times Leader:
We're honoring high school students thriving in their schools and communities. EXCEL was developed as a way to shine a light on these young adults and the good work in which they are doing.
NANTICOKE — When Harley LaRue moved to Nanticoke from Pittston at the end of her freshman year, she knew the best way to feel at home was to get involved.
"The best way was just reaching out to people and trying to make more friends," said LaRue, 17, who will soon complete her junior year at Greater Nanticoke Area's John S. Fine Senior High School. "It wasn't hard because everybody here was really nice."
One activity that keeps her busy is the online school newspaper, the GNA Insider, for which LaRue writes everything from profiles of faculty members, students and alumni to political commentary and year-in-review synopses of national and world news.
"She has a tremendous work ethic," said journalism advisor Sean Carey, who has known LaRue for two years. "I knew from the first day that she is going to be a success."
LaRue hopes to eventually major in English — "It's what I'm best at," she said — and thinks she might add journalism as a minor. "It's hard to know for sure," she said.
One thing she is sure about is setting her sights on Ivy League education, perhaps at Harvard or another top university.
She has been accepted into Franklin and Marshall's month-long college prep program and plans to spend July at that school in Lancaster. She has also applied to a similar program at the University of Chicago.
Back at John S. Fine High School, where LaRue will enter her senior year in the fall, she serves on the student council and as a treasurer of the French National Honors Society, which recently traveled to Montreal.
"I wouldn't say that I'm really perfectly fluent," she said modestly, adding that it was, "pretty cool" to converse with French-speaking people in Canada. "It was mostly 'hi' and 'hello', things like that."
To help finance the trip to Canada, LaRue and other honor society members sold bonbons that were made in France.
Speaking of candy, LaRue became one of the first members of a new club dedicated to "secret acts of kindness."
One recent project for that club involved bringing candy, soda and stress balls to the library where advanced placement tests were being held. On other occasions, teachers have received flowers.
"We come up with names of people, if it's their birthday or we know they're having a rough time, and we'll bring them doughnuts or flowers and give them anonymously," she said.
LaRue, who is the daughter of Megan Mikulka, of Nanticoke, also has a part-time job at Sheetz, making sandwiches and serving as a cashier.
The oldest of five daughters, LaRue said she looks out for her four younger sisters — 16-year-old Miranda, 12-year-old Megan, 6-year-old Brooke and 9-month-old Guinevere. "I work hard to set an example for them."