Where are they now? Ellen Barkuska GNA '90
Zookeeper at the Philadelphia Zoo
Hang on for a minute...we're trying to find some more stories you might like.

The Greater Nanticoke School District has a history unmatched. No matter how many times the still maintains a unique and ever-enduring luster thanks to those who have symbolized the true spirit of a Trojan. The sun rises and sets, the legacy of her name. The year 1990 is a date that will forever remain etched in the hearts and minds of the Nanticoke faithful. It was a year of pure dominance,  both on and off the basketball court, by a group of young ladies who brought an entire town together. The 1990 Trojanette State Championship Basketball team is and will remain, one of the greatest teams in the history of GNA. The GNA Insider was fortunate enough to sit down and talk with one of the members of that 1990 Trojanette team. Like all of the other ladies from the 1990 state championship team, she has made Nanticoke proud not only because of her performance  "in the paint" as part of that special team, but also "outside the lines" because of her many successes as a GNA alumni.
The following biography was taken from Ellen Bartuska's induction to the Luzerne County Sports Hall of Fame – John Louis Popple Chapter: Ellen Bartuska graduated in 1990 from the John S. Fine High School in Nanticoke, where she played and lettered in basketball, softball and volleyball. She is a member of the undefeated 1990 Pennsylvania AAA championship girls' basketball team and finished her high school career with 1286 points. She was selected to the Coaches' All-Star team by both Wilkes-Barre newspapers, The Times Leader and The Citizen's Voice. In addition, the Times-Leader honored her as the Wyoming Valley Conference Division I girls' basketball MVP. Outside of her high school athletic career, she was a five-time participant in basketball at the Keystone State Games. Ellen was an officer in the John S. Fine High School chapter of the National Honor Society. She graduated with t he highest grade point average among senior girls and was third overall in her class.
She accepted a scholarship to play basketball at the University of Richmond  (VA) and was the first Trojanette basketball player to receive a full scholarship to a Division I college. Ellen earned a starting position as a freshman and helped take the team to the 1991 NCAA Championship Tournament. At the conclusion of that season, Ellen tried out for the 1992 U.S. Olympic Women's Basketball Team. As a senior, Ellen was voted co- captain of the 1993-1994 squad by her teammates. Several times throughout her years as a Richmond Spider, Ellen was selected as the Colonial Athletic Association (CAA) conference "Player of the Week". In addition  to her basketball accolades, Ellen was also recognized for her academic achievements,  most notably making the University of Richmond  Dean's List and being named by both the University of Richmond  and the CAA as a "Scholar Athlete."
After receiving her degree in biology, she pursued a career in the field of zoology while continuing to play basketball. In 2003, she played professionally in the Women's Eastern Basketball Alliance for the now defunct Delaware Express. She also played recreationally for several years in various women's basketball leagues. In 2011, in recognition of her athletic accomplishments, she was inducted into the Luzerne County Sports Hall of Fame –   John Louis Popple Chapter. Ellen enjoys running and has participated in many half marathons, 10 miles and 5K races in Delaware and the Philadelphia area. She is the daughter of Peter and Barbara Bartuska of Nanticoke, PA. Ellen currently resides in Delaware and enjoys working as a zookeeper at the Philadelphia Zoo, where she has been employed for the past 17 years.
Below is The GNA Insiders interview with Ellen Bartuska:
What is your official title and can you explain your job?
My official title is assigned relief keeper for small mammals and ungulates (hoofed mammals). I have been a zookeeper  at the Philadelphia zoo for the past 17 years and worked at zoos in Baltimore and   Richmond  before that. Basically, I work with the smallest and largest mammals in the zoo.    My favorites are the hippos, the giraffes, the okapi, and the rhinoceros. The general duties included in my job description are, first and foremost,  to ensure the health and well-being of the animals under my care. That is done by making sure they eat the right foods in the correct  amounts and making sure their enclosures are clean and free from hazards. We also try to ensure that the mental health of each animal is exercised. Despite  their varying intellectual levels, we provide each   animal with appropriate mental stimulation,  called enrichment. My keeper duties do not end with the animals, however. A certain amount of time each work day is dedicated  to speaking to our visitors about the animals they see not only at the zoo but their relatives in the wild. We really like to talk about environmental conservation  and how the smallest actions we do at home can have big implications for the world, as a whole.
What do you like most about your job?
The obvious thing that I like most about my job is getting to work one-on-one with amazing animals every day and establishing a unique keeper/animal rapport with them. A secondary benefit of loving what I do is that it is easy to get out of bed every morning and go to work. I cannot imagine having a job you don't enjoy doing, as I actually look forward to going to work each day. Every day is different, and every day I learn something new.
What is the most exciting aspect about working at the Philadelphia Zoo?
Every day of work is exciting to me. Just being able to give Tony, the rhino, a "good morning" scratch, feed Gus, Stella, and Abby, the giraffe family, their leafy browse, or train Cindy and Unna, the hippo "girls", to station  at a designated spot is a thrill each and every day. It never gets old, and that is what being passionate about what you do is all about!
What inspired you to be a zookeeper?
I cannot say that I had an actual inspiration  to become a zookeeper.  I have always loved animals, but it wasn't like we had a crazy menagerie growing up. We had a dog just like everyone else. There was a time I thought maybe I would like to go into veterinary medicine, but the reality of it is I did not want to work with sick animals all the time. Zookeeping  is the only thing I've ever really wanted to do, ever since I was a little kid.
Has there been a teacher or coach whom you could accredit for you successes?
I credit Dr. Maryellen Scott, my third grade teacher, for my early intellectual inspiration.  Even though third grade was a long time ago, I still remember  some of the classroom instruction she gave. She taught us that learning could be fun, and even though the phrase "think outside the box" didn't exist back then, that is exactly what she taught us to do. As a young adult, Coach Rose Volpicelli was the biggest inspiration.  I could probably write an entire book on the life lessons she taught. She taught us to be respectful, set goals, give 110%, and never…ever…give up. Most importantly, and this would be the piece of advice I would give to students  today,   she told us to always have pride in your work. Whether in competition, relationships with others, work or play, your actions are a   direct reflection on yourself. Take pride in what you do, and you will never be ashamed to look in the mirror
What are your fondest memories of GNA?
My fondest memory of GNA is capping an undefeated 30-0 season by winning the PIAA class AAA girls' basketball championship. The events of that year galvanized an entire community  in a way that seemed to extend beyond the basketball court. To this day, the memories I recall can still be defined as "magical".
Do you still keep in contact with your teammates?
Through  the power of Facebook, I still keep in contact  with most of my teammates. Even though our lives have all taken different turns, we will be forever united by the wonderful experiences of our high school years.
What is the most valuable lesson you have learned from your athletic and academic careers?
The most valuable lesson I learned is that there will be failures. They may be many, or they may be few, but they will exist. I love the Ralph Waldo Emerson quote, "Our greatest glory is not in never failing, but in rising up every time we fail." That is how character  is built.  Facing and overcoming challenges is a skill set necessary to succeed in the world today, and that skill set is only built and honed by living and learning.
Can you describe the experience of trying out for the U.S. women's basketball team?
Trying out for the Olympics was a great honor. I tried out as a collegiate freshman, and the tryouts were by invitation  only. My coach saw enough talent in me to think I would make a good showing. Well, once I got there, I realized how talented  the rest of the women were. I gave it my best, but did not even make it through the first round of cuts. Needless to say, it was a memorable time because it gave me confidence in the talent I had (enough to be invited) but also inspired me to work harder to be like the woman who did make it through the tryout.
About the Writer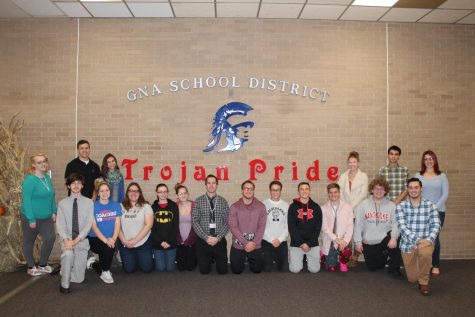 The GNA Insider Staff, Staff
The GNA Insider is your #1 source for inside information on the happenings within the Greater Nanticoke Area High School. "The GNA Insider" features the people, places and events that make our school great. Here at The GNA Insider, we are always looking for motivated students to bring their ideas, talents and school pride to help showcase...