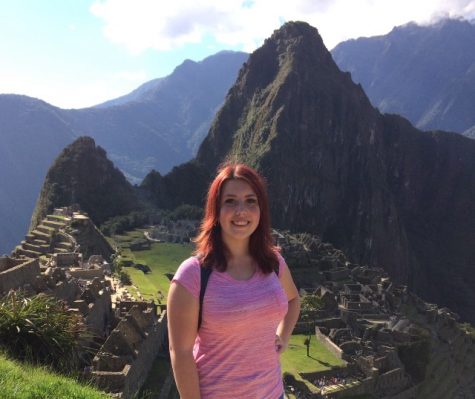 My name is Madelyn Rose Bugdonovitch, and I am a senior. I am currently attending college part-time along with high school through our school's Dual Enrollment program. I am a member of the National Honor Society and the Spanish Honor Society and have been involved in chorus for the past eight years and the jazz and concert bands for the past seven years. I was also a member of the Marching Band for three years. I have been playing flute for over nine years and also play some guitar and piano.
I have been in several musical productions over the years as well. This past summer, I had the opportunity to travel to Iceland and explore the country's history, culture, and unique geography. This upcoming year, I will be traveling to Ecuador.
I have a wide range of interests and hobbies but possess a strong passion for music, theater, art, history, photography, and traveling. I also enjoy camping, hiking, and pretty much anything else outdoors.
After high school, I plan to attend college full-time and hope to double major and minor in areas of music as well as areas of history, mainly Archaeological / Anthropological studies.
Madelyn Bugdonovitch, Student Writer
Sep 28, 2018

Getting to know our staff: Mr. Joe Yamulla, college adviser

(Story)

Jun 06, 2018
Jun 05, 2018

Father and son: Pharaohs of Egypt

(Story)

May 24, 2018

Senioritis: is there a cure?

(Story)

May 21, 2018

Winner of Ms. Hyder's historical newspaper contest: The Salem Post

(Story)

Apr 30, 2018

Blast from the past: Ms. Hyder prompts students to explore and revive events from 1692

(Story)

Apr 06, 2018

Photos from Into the Woods

(Story)

Mar 27, 2018

Breaking the silence

(Story)

Mar 15, 2018

Meet the cast and crew of Into The Woods

(Story)

Mar 14, 2018

A nationwide walkout

(Story)

Feb 27, 2018

GNA presents: Into the Woods

(Story)

Feb 24, 2018

Nikola Tesla: the forgotten man who shaped the modern world

(Story)

Sep 12, 2017

Homecoming 2018 (September 2017): Volume 1

(Story/Media)

Feb 09, 2018

GNA's got talent: Liam Carcieri

(Story)

Feb 02, 2018

Zumba fitness with Ms. Hyder

(Story)

Jan 29, 2018

Nanticoke students make Regional Chorus

(Story)

Jan 18, 2018

The world's first human head transplant

(Story)

Dec 20, 2017

2017-2018 Trojanette basketball preview

(Story)

Nov 19, 2017

The Spanish Flamenco Ballet

(Story/Media)

Oct 31, 2017

Annual senior Halloween parade

(Story/Media)

Oct 25, 2017
Oct 20, 2017

Froggy 101's Guitars and Stars Contest

(Story)

Oct 19, 2017

District chorus: pre-auditions

(Story)

Sep 29, 2017

We've got your back

(Story)

Sep 22, 2017

GNA 2017-2018 Homecoming

(Media)

Sep 20, 2017

Spirit week: Wednesday

(Media)

Jun 15, 2017
Jun 15, 2017
Jun 14, 2017
Jun 08, 2017
May 15, 2017

GNA's got talent: Lance Jenson, Gabe Jenceleski, and Sean Wolfe

(Story)

May 14, 2017

GNA's got talent: Josh Baranowski, Andrea Grey, and Kassie Rinker

(Story)

Apr 11, 2017

GNA's got talent: Kendal Grimm, David Mash, and Dominic Donelli

(Story)

Apr 06, 2017

Sophomore Madelyn Bugdonovitch featured as student columnist in Citizens' Voice

(Story)

Oct 01, 2016