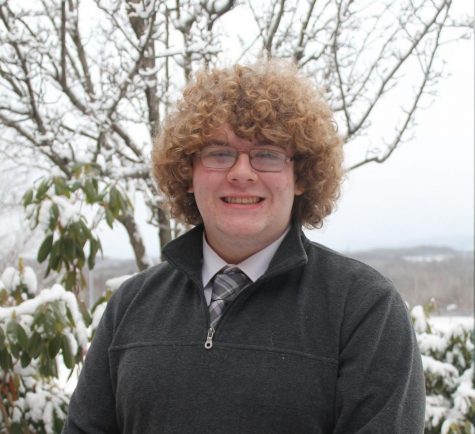 My name is EJ Gill.
I am a member of the Class of 2019 at Greater Nanticoke Area High School.  
I enjoy learning new things, being with friends, listening to music and volunteering.  I am a political activist within the community.  I am President of the 2018-2019 Student Council.  I  participate in track and field. I am a member of the GNA Theater Club,  National Honor Society, an advisor to Junior Leadership Wilkes-Barre and a participant in the Wilkes Upward Bound program.
I am undecided on where I want to attend college; however, I plan to major in Political Science.
EJ Gill, Student Writer
Jun 04, 2019

Advice and farewell to the Class of 2019

(Story)

Jun 04, 2019

GNA Class of 2019

(Story)

May 02, 2019

Bernie Sanders divisive plan to allow prisoners to vote

(Story)

Apr 10, 2019
Apr 09, 2019

Newport Township to hold Spring Fling

(Story)

Apr 03, 2019

Democratic nominees: my top 5 picks

(Story)

Mar 18, 2019

Trojans' season comes to a close

(Story)

Mar 08, 2019

Guidance updates: March

(Story)

Mar 08, 2019

Tickets are on sale for state basketball games

(Story)

Feb 22, 2019

Division II MVP and Coach of the Year announced

(Story)

Jan 23, 2019

Boys basketball opener

(Story)

Dec 14, 2018

Mayor Wiaterowski remembered for his hardwork, dedication, and service to the community

(Story)

Dec 11, 2018

The death of George H. W. Bush marks an end of political decency

(Story)

Nov 05, 2018

Fall comes to a close; big things expected from GNA Basketball

(Story/Media)

Nov 05, 2018

Harley LaRue: QuestBridge finalist

(Story)

Sep 27, 2018

GNA bonfire will now feature vendors

(Story)

Sep 17, 2018

2019 GNA Homecoming Spirit Week schedule

(Story)

Jun 07, 2018

Harley LaRue: QuestBridge Prep Scholar

(Story)

Jun 04, 2018
Jun 01, 2018

Student Council elections

(Story)

May 16, 2018

Junior Leadership Wilkes-Barre hosts dog walk for a cause

(Story/Media)

May 16, 2018

U.S. pulls out of Iran deal

(Story)

Apr 30, 2018

Coach Yendrzeiwski: A GNA Legend

(Media)

May 08, 2018

Seniors – important upcoming dates

(Story)

May 08, 2018

Senior Class Officers

(Story)

Mar 21, 2018

Junior Leadership Wilkes-Barre

(Story)

Mar 01, 2018

Boys basketball

(Story/Media)

Mar 14, 2018
Mar 12, 2018
Mar 01, 2018

Trojanettes take hard loss, but keep heads high

(Media)

Feb 28, 2018

Trojanettes set to play for district title

(Media)

Feb 02, 2018

Team Wiaterowski selling t-shirts

(Story)

Feb 01, 2018

Trojanettes finesse their way past the Mountaineers of Dallas

(Media)

Jan 24, 2018

Trojanettes ranked 10 in the state

(Story/Media)

Jan 24, 2018

Junior Leadership accepting new applications

(Story)

Jan 11, 2018

Trojans VS. Royals

(Story)

Dec 21, 2017

The tides are turning…

(Story)

Dec 20, 2017

2017-2018 Trojanette basketball preview

(Media)

Dec 16, 2017
Dec 20, 2017

Sophomore class ring ceremony (December 2017)

(Story)

Dec 19, 2017

2017-2018 Trojan basketball preview

(Media)

Dec 14, 2017
Dec 12, 2017

The Class of 2020 holds ring ceremony

(Story)

Dec 03, 2017

Deck the Halls

(Story/Media)

Nov 21, 2017

High school blood drive

(Story)

Oct 30, 2017

Sophomore class officers

(Story)

Oct 19, 2017

Junior class officers

(Story)