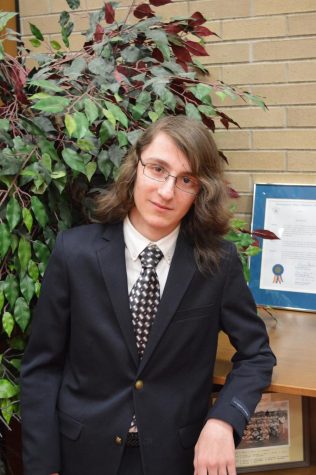 My name is Daniel Shevchenko, and I am a sophomore at the Greater Nanticoke Area High School. I have lived in Nanticoke for six years, having moved here from Wilkes-Barre at age eight. I am the secretary of the Interact Club for the 2018-2019 school year, and have participated in the student organization for three years. I have also been a member of the Drama Club for three plays, including this year's - "The Little Mermaid." I have several major hobbies outside of schoolwork, including reading classical and/or heartbreaking novels, learning languages, programming, and the occasional video game or two. I also enjoy caring for my poodle, named Marquis.
I have traveled to several countries over the course of my life including Canada, Switzerland, Austria, and Germany. I consider travel to be a very valuable experience for discovering cultures and educating oneself about both the good and bad of our world, and it is a life goal which I intend accomplish once my financial situation permits it.
Once I complete my high school education, I intend to attend an Ivy League university—my eyes are currently set on the University of Pennsylvania or Columbia—with a major in Computer Programming or Law.
Daniel Shevchenko, Student Writer
Jun 13, 2019

Europeans vote for representatives in transcontinental legislative body

(Story)

May 30, 2019

A historic failure in British politics—Brexit, revisited

(Story)

Apr 24, 2019

Nanticoke Interact Club to host annual Polio Walk

(Story)

Apr 23, 2019

The European copyright law, and why it may not be so bad

(Story)

Apr 23, 2019

Quizbowl team competes in local tournament

(Story)

Apr 11, 2019

Nanticoke students attend the Bloomsburg Programming Contest

(Story)

Mar 27, 2019

Nationalistic terror hits Christchurch, New Zealand

(Story)

Mar 18, 2019

The rise and decline of the gilets jaunes

(Story)

Feb 27, 2019

Under a doctrine of prideful service

(Story)

Dec 19, 2018

Interact Club Kennedy reading

(Story)

Nov 30, 2018

Brexit — a scheme of no avail

(Story)

Nov 30, 2018

Interact Club travels to the United Nations

(Story)

Oct 26, 2018

Pennsylvania midterm elections—a busy November

(Story)

Oct 11, 2018

Associate Justice Brett Kavanaugh—an overview

(Story)

Sep 25, 2018

Nanticoke revitalization project

(Story)

Sep 19, 2018

Nanticoke Interact Club gathers for first meeting

(Story)