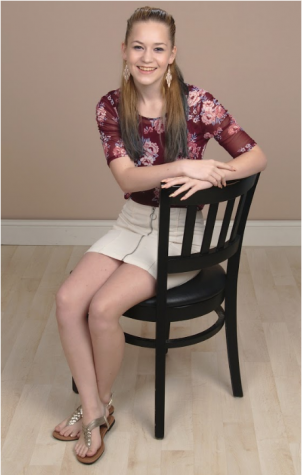 My name is Brianna Stritzinger, and I'm a senior at Greater Nanticoke Area High School. This is my second year working on The GNA Insider.
I enjoy reading for my entertainment, writing in my free time, listening to music, doing my hair and makeup, playing video games in my spare time and living my life to the fullest. I find being myself is one of the most important things that I could do for myself and the others around me. Throughout my life I have encountered many tragic events, but through it all, I have always been resilient.
Some of my greatest accomplishments are making high honors and taking two honors courses my junior year.
I never give up in anything I try to do and I always try to be the best person I can be. Most of my accomplishments have come from working on The GNA Insider.
Brianna Stritzinger, Student Writer
Jun 05, 2019

Our Town Nanticoke

(Story)

Jun 04, 2019

If I never see you again…

(Story)

May 30, 2019

Eminem inspires a word for the Merriam-Webster Dictionary

(Story)

May 08, 2019

Fine Arts Fiesta poster contest

(Story)

May 08, 2019

Online shopping vs in-store shopping

(Story)

Apr 26, 2019

Mrs. Beggs and Mr. Manly take GNA students to Wilkes ropes course

(Story)

Apr 26, 2019
Apr 17, 2019

GNA students build display cases

(Story/Media)

Apr 16, 2019

GNA to host job fair

(Story)

Mar 13, 2019

Student of the month: February 2019

(Story)

Mar 13, 2019

Student of the month: January 2019

(Story)

Mar 13, 2019

Student of the month: December 2018

(Story)

Mar 06, 2019

Facts you never knew about Disney movies

(Story)

Mar 05, 2019

GNA senior class participates in "Stop the Bleed"

(Story/Media)

Feb 25, 2019
Jan 23, 2019
Jan 11, 2019

Nanticoke welcomes new mayor

(Story)

Jan 04, 2019

GNA hosts bagel breakfast

(Story)

Dec 22, 2018

Billboard Top Songs: Week of December 22

(Story)

Dec 15, 2018

Billboard Top Songs: Week of December 15

(Story)

Dec 13, 2018

Student of the month: November 2018

(Story)

Dec 13, 2018

Billboard Top 100 songs of 2018

(Story)

Dec 08, 2018

Billboard Top Songs: Week of December 8

(Story)

Dec 05, 2018

Top 10 Christmas songs of all time

(Story)

Dec 03, 2018

The 10 Most Christmasy Things to Do in Pennsylvania

(Story)

Dec 01, 2018

Billboard Top Songs: Week of December 1 

(Story)

Nov 28, 2018

16 Reasons Why It's So Important To Follow Your Dreams

(Story)

Nov 24, 2018

Billboard Top Songs: Week of November 24

(Story)

Nov 20, 2018

Movie reviews: November 2018

(Story)

Nov 19, 2018

Student of the month: October 2018

(Story)

Nov 17, 2018

Billboard Top Songs: Week of November 17

(Story)

Nov 12, 2018

Veteran's Day program 2018

(Story)

Nov 10, 2018

Billboard Top Songs: Week of November 10

(Story)

Nov 08, 2018

Thanksgiving around the world

(Story)

Nov 08, 2018
Nov 06, 2018

Billboard top songs: Week of November 3

(Story)

Oct 23, 2018

Movie reviews: October 2018

(Story)

Oct 22, 2018

Mr. Stetz and Mr. Litch take students to visit historic Philadelphia

(Story)

Oct 18, 2018

Student of the month: September 2018

(Story/Media)

Oct 13, 2018

Spirit Week: Decades Day

(Story)

Oct 13, 2018

Spirit Week: Tourist Tuesday

(Story)

Oct 13, 2018

Spirit Week: Movie Monday

(Story)

Oct 13, 2018

Homecoming: middle school pep rally

(Story)

Oct 09, 2018

Homecoming: elementary pep rally

(Story)

Sep 25, 2018
Sep 19, 2018

Movie reviews: September 2018

(Story)

Sep 17, 2018

2019 GNA Homecoming Spirit Week schedule

(Story)

Sep 10, 2018

September 2018: John F. Kennedy display case

(Story)

Jun 06, 2018
May 31, 2018

Who was K.M. Smith?

(Story)

May 11, 2018

Game Reviews: Injustice 2

(Story)

May 03, 2018

GNA Proud: Keystone ready

(Story)

May 01, 2018

Way Back When: 2005

(Story)

Apr 17, 2018

Student of the month: March 2018

(Story/Media)

Apr 14, 2018

The man behind the mask: meet Champ

(Story)

Mar 28, 2018

Pennsylvania places to see

(Story)

Mar 20, 2018

Student of the month: February 2018

(Story)

Feb 15, 2018

Student of the month: January

(Story)

Feb 13, 2018

Progress: Kennedy Early Childhood Center

(Story)

Feb 06, 2018

Trojan Pride Ticket winners: quarter two

(Story)

Feb 01, 2018

Tips on how to pass your drivers test

(Story)

Jan 24, 2018

As Old As Time: A twisted tale

(Story)

Jan 17, 2018

Movie reviews: January 2018

(Story)

Jan 12, 2018

Student of the month: Decemeber

(Story)

Dec 18, 2017

The 2017-2018 GNA swim team

(Story)

Dec 08, 2017
Dec 03, 2017
Dec 06, 2017

Student of the month: November

(Story)

Dec 01, 2017

December 2017: movie reviews

(Story)

Nov 14, 2017

November 2017: movie reviews

(Story)

Nov 08, 2017

Student of the month: October

(Story)

Nov 08, 2017

Mrs. Makarcyzk's family tree project

(Story)

Nov 01, 2017

Introducing Trojan Pride Tickets

(Story)

Oct 18, 2017

King's College offers free tutoring at GNA

(Story)

Oct 17, 2017

Kennedy Early Childhood Center is progressing

(Story)

Oct 05, 2017

October 2017: movie reviews

(Story)

Sep 29, 2017

Student of the month: September

(Story)

Sep 25, 2017

Meet Mr. Schillinger

(Story)