"Avengers: Infinity War" review
10 Years of Marvel Films finally come together in a big way.
Hang on for a minute...we're trying to find some more stories you might like.
Photo credit: BookMyShow.com
Even if you, as a 'moviegoer,' aren't that much of a superhero fan, something definitely needs to be said about how well orchestrated the Marvel Cinematic Universe has been. Over 10 years, and 18 movies, the once bankrupt studio has been able to weave together a continuous story, spanning all areas of the Marvel Comics fiction, and helping shape how we perceive movies in this day and age. However, if you're not very well versed in Comic lore, than Avengers Infinity War can be an unforgiving ride to casual fans, and a tug on the heartstring for he who is more invested.
The latest installment in the franchise promises to unite nearly 30 characters from its films to combat one, looming and ever-present threat: the titan Thanos. A character familiar to comic book fans, Thanos' presence in the films was teased at the end of 2012's The Avengers, and was shown in the following films to be a ruthless alien menace, with a very particular wish. Of the many tie-ins that help connect the many films, one detail is the omnipotent Infinity Stones; powerful cosmic artifacts that control certain aspects of the universe (time, space, soul, etc.). As a villain, Thanos aims to collect all the stones which have held prevalent roles in separate films, and use their collective powers to wipe out half the universe. Much like most other features of the film, this plot device will be familiar to fans and readers of Marvel's comic stories.
This example highlights both the best, and worst aspect of the film for me. After 10 years, moviegoers have had ample time to delve into the richly dense history of the comics, but this doesn't mean that every viewer has. Infinity War delivers almost no exposition or background to the heaps of character and information present, relying rather on the viewer's past experiences with Marvel. On one hand, this is helpful, as it allows more focus on the characters and their interactions. After all, the entire Avengers, Guardians of the Galaxy, and excess heroes are involved, so without exposition, the pacing of the film rarely falters. However, as stated before, to a casual fan, Infinity War may be confusing at best, and incomprehensible at worst.
Overall, Avengers: Infinity War was not only an impressive film from the perspective of a fan, it was a dream come true to see some of my favorite comic book heroes together, and interacting on screen. The banter between certain Avengers was humorous, and almost every joke landed in ample time. That feat was surprising to me; the film's marketing was very somber and grim, but despite the stakes being this high for our heroes, the movie had a great balance of light-hearted fun, and more gritty action. In fact, there was a scene (without spoilers!) that I felt was purely wholesome dialogue between two characters, that fueled their bond, and I look forward to seeing them work together in the next film.
That being said, that hopefulness brings up another praise/problem that I have with the film. Infinity War follows closely to the first half of Marvel Comics Infinity Gauntlet storyline, meaning that the film ends on a very shocking, almost disappointing note. For sake of not revealing too much, it is very clear that a sequel is necessary, and it is planned. Although I respect Director's Anthony and Joe Russo for making the choice to mirror the story of the comics, as aforementioned, a casual fan will not hold the same opinion or praise.
In short, I believe that Avengers: Infinity War is an excellent culmination of Marvel's film storyline. With so many characters, it was a challenge to bring them together, but the film succeeds greatly, giving each hero, and even the villain, a moment to shine. With so much at stake, one of the best executed comic villains in recent memory, and a cliffhanger that'll jerk some tears, Infinity War is a wonderful, if not slightly hard-to-reach film, that gets its job done and more.
Overall Score: 8/10
Final Note: Be Sure to watch Captain Marvel next year.
About the Writer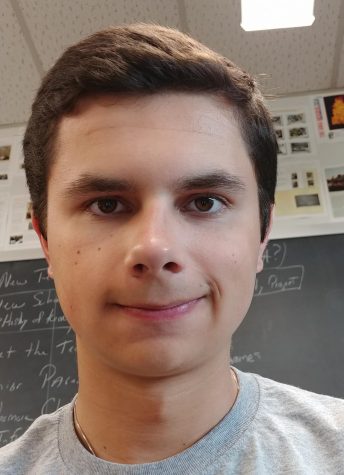 Gabe Jenceleski, Student Writer
My name is Gabe Jenceleski, and I am a member of The GNA Insider staff! As a contributor to the paper, I have had the unique opportunity to be privy to...