Getting to know our Teachers: Mr. Budnick
Hang on for a minute...we're trying to find some more stories you might like.

What are your hobbies outside of school?
I love biking, exercising, reading at Mass, and watching "General Hospital." I also enjoy relaxing on a sandy beach.
What is something most people don't know about you?
I was in charge of 13 lawns when I was growing up. I started mowing lawns when I was in 7th grade. I was very independent at a young age.
If you could meet one person, living or dead, who would it be? Why?
I would love to meet Jesus because I could be an eyewitness to everything sacred that He did. I could attend the very first Mass and be present for all of his miracles.
What is your favorite band – or – who is your favorite singer?
I enjoy Fleetwood Mac, David Bowie, The Who, and Coldplay, just to name a few.
What is your favorite song of all time?
"Sadeness" by Enigma. (Very mysterious!) (Try it!)
What is your favorite place to eat?
Arcaro & Genell's on Main Street in Old Forge. White double-crusted pizza!
What is the most unique place you've ever visited? Why?
The new St. Jude's Church in Mountain Top. It is the only brand-new church in our area when many churches are closing.
Do you have any pets? If so, what are they?
Not at this time. I do feed the birds, squirrels, chipmunks, and rabbits (sometimes the skunks and deer!).
What is the most outrageous thing that has happened to you while teaching?
I began my career very serious, but I had to evolve into a humorous teacher over time for the students (and, mostly, myself).
What is your biggest pet peeve?
Lazy people and people who do not work to their full potentials.
What inspired you to become a teacher?
I desired to help others. I actually loved grammar. Little did I know that college is mostly literature and writing!
What do you like most about teaching?
I like moments when I truly see students understanding new concepts. Learning and smiling simultaneously is a great feeling!
What is your biggest piece of advice for students?
Whatever you choose to do in life, give it 100%. Always strive to achieve to the max. Do not waste any of your potential. Always think before you speak and act. And, behave as if others are watching, even though they are not. Finally, treat others how you want to be treated.
About the Writer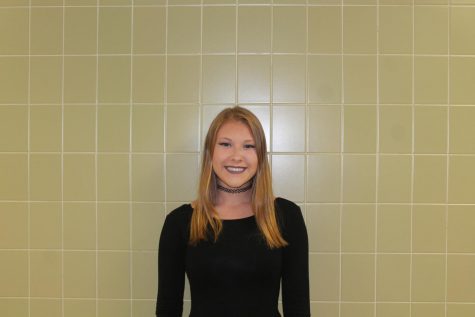 Taylor Zabrenski, Student Writer
My name is Taylor Zabrenski and I am a senior. I enjoy playing soccer, throwing javelin for the track and field team, fishing, taking pictures, doing makeup, and spending time with my family and friends. I am a 4 year member of and letter recipient on the girls varsity soccer team, a 4 year member...