Getting to know our teachers: Mr. Carey
Hang on for a minute...we're trying to find some more stories you might like.

What are your hobbies outside of school?
-I enjoy spending time with my family.
-I am a huge Notre Dame Fighting Irish fan and enjoy watching each game with my family. It has been our tradition since I was born.
What is something most people don't know about you?
-I have been playing the guitar professionally since college. I really enjoy music.
If you could meet one person, living or dead, who would it be? Why?
-I would say Bobby Kennedy. He was fearless, he loved his family, and he did what he thought was right – not because it was easy, but because it was right.
What is your favorite band – or – who is your favorite singer?
-Dave Matthews Band. Best group of musicians ever assembled!!
What is your favorite song of all time?
-I have two. The Notre Dame Victory March and "Pig," by the Dave Matthews Band.
What is your favorite place to eat?
-Honestly, my kitchen. My wife is the best cook ever, plus I really enjoy being home!!
What is the most unique place you've ever visited? Why?
-The University of Notre Dame in South Bend, Indiana. I have never been to any other place like it. I travel to South Bend every year and have been doing so since I was two years old. If you've been there, no explanation is necessary. If you haven't, none is adequate. The Golden Dome! Touchdown Jesus! The Grotto! The House that Rockne Built! Go Irish!!     
Do you have any pets? If so, what are they?
-I have a dog, Quinn and a cat, Sadie.
What is the most outrageous thing that has happened to you while teaching?
-On September 11th, 2001 I was substituting here at Nanticoke in the shop room. The room didn't have a T.V. I remember listening to the radio as the tragic events of 9/11 unfolded. It was an experience that I will never forget.
What is your biggest pet peeve?
-Rudeness and ignorance.  
What inspired you to become a teacher?
-My father inspired me to become a teacher. Through him, I saw the value of being an educator. I believe it is one of the most important careers in existence.
What do you like most about teaching?
-There is so much to love about my career. Mostly, I enjoy working with our students.
What is your biggest piece of advice for students?
-Hard work doesn't guarantee success, but without it, you don't have a chance.   
About the Writer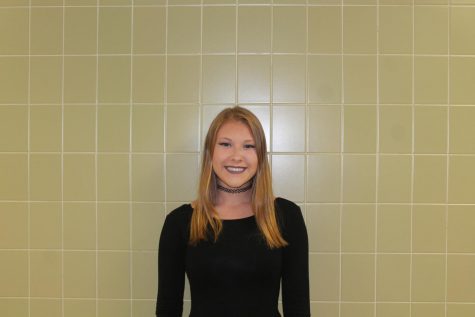 Taylor Zabrenski, Student Writer
My name is Taylor Zabrenski and I am a senior. I enjoy playing soccer, throwing javelin for the track and field team, fishing, taking pictures, doing makeup, and spending time with my family and friends. I am a 4 year member of and letter recipient on the girls varsity soccer team, a 4 year member...