Where are they now? Abby Gesecki GNA '06
Hang on for a minute...we're trying to find some more stories you might like.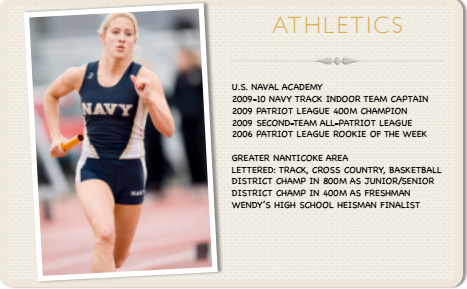 Abby Holt (Gesecki) is a 2006 graduate of GNA. She is currently stationed in Kings Bay, GA on the USS Wyoming, a ballistic missile submarine (SSBN). About 9 months ago she earned her dolphins (warfare pin) which was, according to Abby, a very exciting accomplishment. It took about 2.5 years to earn, beginning with 6 months of Nuclear Power School in Charleston, SC and 6 months of Prototype training in Saratoga Springs, NY. She has been attached to the Wyoming since April 2012. "It's been a great experience so far. As one of the first females on subs, I
was initially very nervous checking in, but the crew is extremely professional and they made the integration seamless," said Abby. Although she cannot discuss most of her work on the submarine, she did tell us one of her favorite stories.
"My first patrol at sea we spent almost the entire time submerged with little to no contact with family and friends," she said. "Just before we were about to come home, I had the privilege of being the OOD (officer of the deck), which means I was driving the submarine…giving orders to the helm and DOOW (Diving officer of the watch). I also had the opportunity to surface the ship for the first time during the patrol. After the sub was on the surface, I had to climb up the bridge and station myself to drive the ship from the bridge. When I got up there, I had to open the hatch, which is no easy feat for a person my size but I managed to get it open and climb outside. Once I got up there, it was the middle of the night and I could see a huge cruise ship with all its
lights lit up. There were also dolphins playing in our bow wake. The coolest part of this experience was being up there, driving a surfaced sub in the middle of the ocean and getting to watch the sun rise over the horizon. It felt like a dream."
Abby never could have imagined herself experiencing anything like that in her life and "it made me so thankful for all the cool opportunities the Navy has given me."According to Abby, it's been a lot of hard work and stress but it's those days that make it all worth it.
She just celebrated her three year anniversary with her husband, Jordan. He is a Navy Flight Officer (NFO) stationed in Jacksonville, FL. He flies the P-8 Poseidon. They have a dog named Ruby, who is more commonly known as their child Together, they also just bought their first home ten minutes from the beach and will move into it in a few weeks.
The Trojan Insider asked Abby a few questions.
What are your fondest memories of GNA? 
My fondest memory from GNA was my senior season on the girls basketball team. Leading the team with my fellow captains as far as we went made me so proud. We worked really hard as a team throughout the summer before school and during the season and I felt like we pushed harder than any other year. We didn't win states, which was heartbreaking, but seeing the team come together like we did was such a great experience. We were more than just a team, we were a family. 
What role did athletics play in your overall character development? 
As you can tell from my answer to question 1, athletics played a huge role in my character development. I believe playing team sports was one of the most significant experiences that ultimately prepared me to become an officer in the navy. Through my experiences, I learned that being a leader is so much more than just being a good athlete. It's about how you perform when the game is over. It's about representing your school or in my case now, the navy, by carrying yourself with pride and respect and setting a good example for those that look up to you.I decided I wanted to join the Navy in high school but my original plan was to do ROTC at one of the schools I was looking at. I knew the navy had many opportunities to offer after graduation and finding a job and paying for my schooling was a big concern for me. During my junior year at GNA, I got invited to come to the academy for a track recruit visit and decided to check it out. While I was there, I immediately fell in love with the school, but it was very intimidating and I was worried I wouldn't make it through. On the last day before I left, an older naval academy alum said to me, "if you choose to go to another school, you will probably be successful and enjoy college like everyone else but at some point you will wonder, could I have made it through the academy and what would it be like if I did?" I decided in that moment, I was going to go for it and see what happens. I have no regrets.
What achievements are you most proud of?
I'm very proud of earning my dolphins. Dolphins are the submarine warfare pin. It takes about two years to complete all the requirements to wear them on your uniform which consists of about a year of nuclear power training and a year learning every system and operation of the submarine. It was the most challenging and rewarding experience so far in my career and I am so proud I can call myself a fully qualified submariner.
What are your future aspirations?
This is a tough question for me. In 2015, I will have completed my commitment of five years of naval service and I will need to make a big decision, stay in or get out. It will be a decision based on what is best for my family. With either choice, I plan to continue my education by getting my masters in systems engineering (my major at the academy). As for right now, my goal is to have a successful tour on the USS Wyoming and take care of my division. As my career progresses, I think my long term plan will become more clear but for now, I'm not closing any doors.