GNA's got talent: Brandon Murtha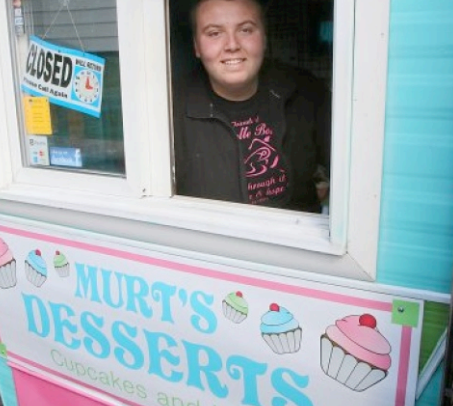 Hang on for a minute...we're trying to find some more stories you might like.

Brandon Murtha is a sophomore in our school that just so happens to also be an entrepreneur who has been come to known for his delightful, sweet desserts. Brandon has his own home-based bakery called Murt's Desserts, and also owns a 10- foot camper that he found on Craigslist which he takes from place to place to sell his cupcakes. Brandon specializes in cupcakes, and also makes cakes, cake pops, and other desserts.
Brandon was inspired to create Murt's Desserts when he decided that he wanted to own his own business. He started baking and taught himself by watching YouTube videos, and he soon discovered that he was pretty talented at it. Knowing that there are no cupcake trucks and only one bakery in Nanticoke, Brandon took advantage of his idea and started his booming business.
Brandon will readily confess that originally he did not have the idea to own a cupcake truck. At first, he wanted an ice cream truck but soon realized that due to the seasons with cold weather ice cream would not sell well; therefore, the idea of the cupcake truck began.
 Throughout his journey, Metz Culinary Management has purchased his cupcakes and they are sold in a Starbucks kiosk on the first floor of Wilkes-Barre General Hospital. He makes two dozen cupcakes to sell in the kiosk each week. Brandon hopes to open a bakery in the future, but for the meantime, the Murt's Desserts truck can be found at different locations. He has taken his camper to sell cupcakes in a variety of places including Nanticoke festivals, outside the R Bar and Grill in Nanticoke and Wyoming Valley Motors. If you want to check out where it will be, go on the Murt's Desserts Facebook page. The cupcakes sell for $2 each, and can be ordered in advance for $15 a dozen.
Brandon will be making some special desserts on behalf of the upcoming seasons. For Thanksgiving he made 100 pumpkin rolls, and for Christmas he will make trays of cookies with the help of his mother. However for New Year's, he contemplates as to whether or not be will be baking anything special. His advice to other kids working toward a goal is "to just keep going and try your best to do it."