A look back at our Trojanette Basketball conference champions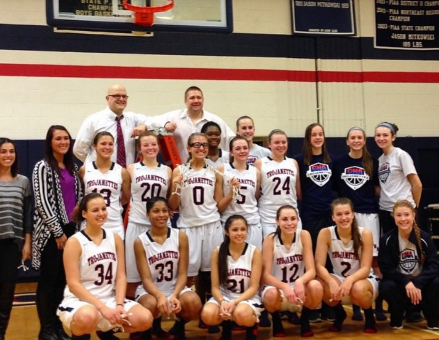 Hang on for a minute...we're trying to find some more stories you might like.
Your 2014-2015 Trojanettes have had one of the most memorable years yet. With hard work, determination, and the drive to compete against the most elite teams in the valley, we have set many goals and have accomplished all we set out to do. The sweat, the cheering crowd, and the support of our coaches helped motivate us to become better as a whole.
With all of the conditioning, practices, and time taken out of our days, it only led up to bigger and better things. An exhilarating moment for us was becoming the Wyoming Valley Conference Champions. Our record of 22-4 brought us to such a prestigious title. With a 14-game winning streak, the other teams were out for blood against us. At that moment, the Trojanettes were the number one team to beat.

During the season, we trained hard. We have competed with 6 other teams in the Riverside Holiday Tournament to win another of many championship trophies. With no losses, it brought us straight to the championship game. It all came down to double over-time. The crowd cheering, the team supporting each other, and the sweat dripping down our faces showed how much we wanted it. We pushed through it and ended up getting the first place trophy. Our coaches were so proud and confident in us and we could not have done it without each other's support.

We ended the season as district semi-finalists, but just because our regular season was over, did not mean that we stopped working hard come summer time. When it was time to get back in the gym for the 2015-16 season, we worked even harder to accomplish the same goal(s) as last season. As a whole, our team had a record of 28-0 in the Kutztown Girls Summer League Basketball camp. It was a time of determination and teamwork. Going undefeated was one of the best moments of our summer. We wanted everyone to know how hard we worked, how much we wanted it, and how much we love the game.