Murt's Desserts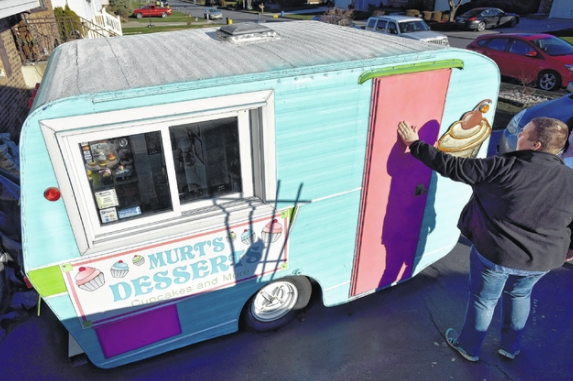 Hang on for a minute...we're trying to find some more stories you might like.

Brandon Murtha is a senior at GNA. He is sometimes called "Bran Bran" by his close friends. Currently, Brandon is the Student Council President and will undoubtedly leave his mark on our school when he is gone.
Brandon is known around the city of Nanticoke and beyond from his own bakery that he founded four years ago.
Brandon created "Murt's Desserts" with the help of his gracious mother. He is in charge of every aspect of the business, but his mother does help him with the financials.
While making pastries for his customers, he is also working two other jobs. He works at Wegmans 4-5 days a week at the service desk. He also works at Bonk's Bar 3-4 days a week from 4-11 p.m. Though he has three jobs, Brandon still finds time to balance work and school activities. He is a true entrepreneur and his future looks bright.
When Brandon was little, he had aspirations to one day own his own business and open a popular restaurant in his hometown of Nanticoke. Brandon's mother said that when he was six years old he used to talk constantly about how he wanted to be a business owner and – it finally sunk in. When he turned eight, according to his mother, he had made his first cupcake with cream cheese icing all by himself, and now he is making his dream come true with Murt's Desserts.
Brandon's calculations have his business rising in many fashions and sees his profits doubling in the coming years.  By 2025, Brandon hopes to have opened a restaurant and will name it "Murt's."  He does say that the name can change, but right now he is going to stick with "Murt's."
If you walk up to Brandon, you will always hear him talking about how he is going to have the best restaurant around. "It will be better than Austies, Concrete City Cafe, Bonks Bar, Jims, Bus Stop Cafe, Sanitary Bakery, Parkway Diner, and all other restaurants in Nanticoke," – stated Brandon.
"Bran" wants to have a central location for his restaurant. "I would like it to be somewhere in the center of Nanticoke."
Competition has been on the rise in every corner of the county with pastry businesses; however,  he does not worry about it and looks forward to the competition. Brandon's key to success is simple: sell for less without sacrificing quality. Without a doubt, his biggest competition in Nanticoke is Sanitary Bakery, located  126 East Ridge Street, Nanticoke, PA.
After high school, Brandon has plans for college, but will stay close by. Currently he is considering  Bloomsburg University (he has been accepted there), and even L.C.C.C. Culinary Arts. If he goes to Bloomsburg University, he plans on majoring in Elementary Education/Special Education.
Ten years from now Brandon sees himself as the boss of his own business. He plans to have close friends and family working with him. He says, maybe, by that time he will have children who could possibly help out.
Overtime,  Brandon plans on running for mayor of Nanticoke.
Why do you enjoy baking pastries? 
It can be very peaceful. It allows me to be creative and create unique cakes and cupcakes. The best part about it, is that I get paid for something that I love to do. I have no intentions to ever quit doing what I love to do, even if I do not go into the pastry business world and become a teacher, I will still have Murt's Desserts. 
How do people react when they take a bite of your pastries?
I have seen everyone act in different ways. Most of the time when someone takes a bite, they wait a couple seconds before they reply on how they taste. And when they do, they say my pastries are so moist and mouth watering and that they want more. 
Why do people call you "Bran Bran"? 
"Uhhh I durnt knur. Thay just stawrtid cawlying me dat." – Brandon Murtha 
What made you want to bake and open your own bakery wagon? 
I started it when I was fourteen so I really had nothing to do. I originally wanted an ice cream truck, but that required a lot of money and a drivers license. Both of which I did not have so I started baking and look where I am now. 
What do you think your life will be like after high school? 
I am very busy outside of school. Other than my business, I have two other jobs. I have been working at Wegmans for almost three years and I am a server/bartender at a bar in Nanticoke. I have the cash flying in from every direction and it does not stop. After high school I see myself furthering my education in some way. I will continue to work as a server/bartender, as a service desk employee at Wegmans, and as a bakery boss.